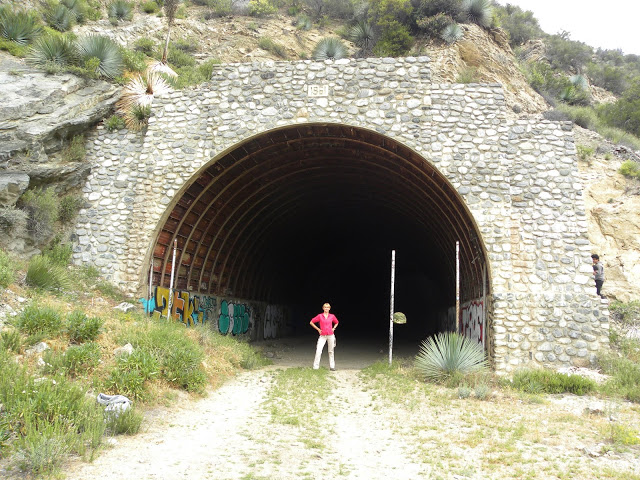 Highway to Nowhere
The Shoemaker Canyon Road is an aborted road located in the San Gabriel Mountains of California, in USA,
Known by some as the "Convict Road", Shoemaker Canyon Road is also dubbed "Highway to Nowhere." This dead-end road is about 5 miles long and was the first phase of a projected 23-year effort to build a 2-lane highway up the formidably steep East Fork San Gabriel River canyon to as far as Angeles Crest Highway. (In the bottom of the river canyon below Shoemaker Canyon Road, there stands a marooned structure, dating from an earlier and unrelated failed road project, dubbed the "Bridge to Nowhere."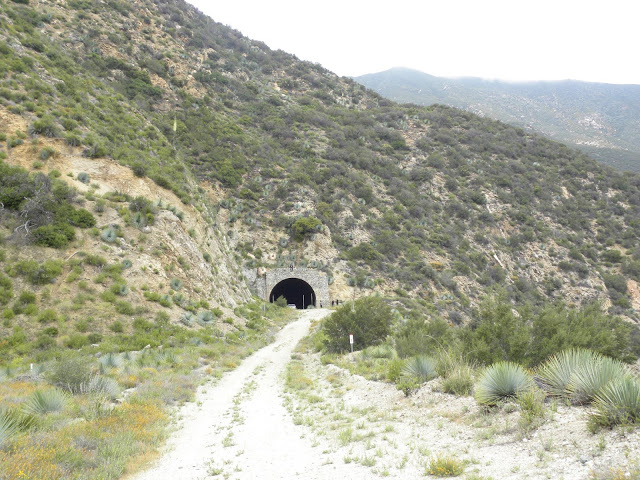 During 1954-69, the Los Angeles County road department, utilizing prison labor, managed to carve out and grade 4.5 miles of new roadway on almost impossibly steep slopes. What was the rationale for this road project? So that people from the L.A. basin could quickly escape the effects of a feared nuclear attack… The road was abandoned in 1969.
Why was the project abandoned in 1969? Because of budget cuts, opposition by conservationists, and a muting of Cold War paranoia. The creation of the Sheep Mountain Wilderness area in 1984 finally put to rest, once and for all, a project that would have irreparably scarred Southern California's deepest canyon: The Narrows of the East Fork.
This well-graded dirt road with moderate grade penetrates several miles up the East Fork and then it ends abruptly. Today you can drive the first 1.8 miles of Shoemaker Canyon Road on pavement, then walk or mountain-bike the remaining graded-dirt section, going steadily uphill, to reach a pair of tunnels: 1.8 and 2.6 miles north of the closed gate. In the middle, the tunnels are quite dark, and some people might find it a little un-nerving. Don't do this in the hot midday sun, as there is virtually no shade except for the tunnel passages.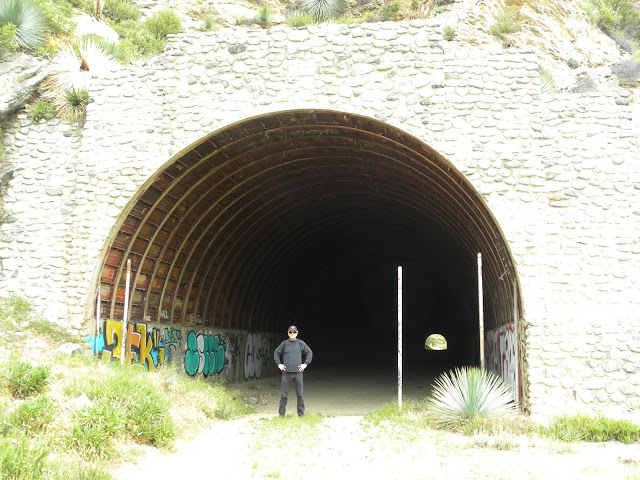 Shoemaker Canyon, który znajduje się w  okolicy miasta San Gabriel w hrabstwie Los Angeles w Kalifornii, USA, właściwie nazywa się Shoemaker Canyon Road i jest przerwaną drogą.
Jednak znany niektórym jako Convict Road – Shoemaker Canyon Road naprawdę powinien być nazywany "Autostrada do nikąd". Droga ma około 5 mil długości, ślepa uliczka, i była pierwszą fazą 23-letniego projektu budowy dwupasmowej szosy na stromym zboczu kanionu East Fork San Gabriel River aż do Angeles Crest Highway. W dolnej części kanionu rzeki, poniżej Shoemaker Canyon Road, znajduje się opuszczona konstrukcja, pochodząca z wcześniejszego i niepowiązanego projektu tej nieudanej i niedokończonej drogi, nazwana "Most do nikąd".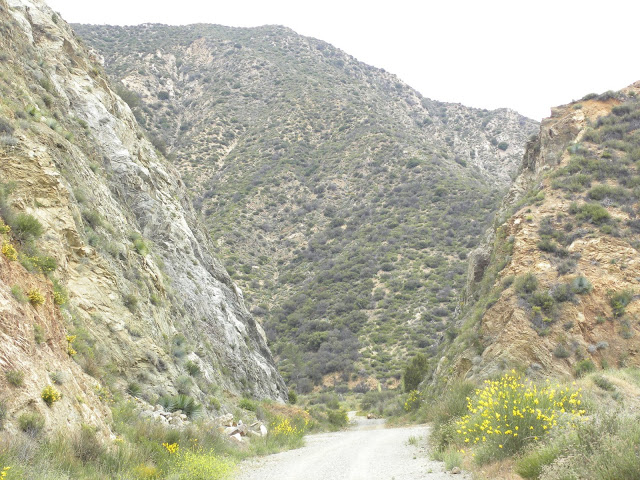 W latach 1954-69 departament dróg w hrabstwie Los Angeles, wykorzystując pracę więźniów, zdołał położyc 4,5 mil drogi na prawie niemożliwych do przebycia, stromych zboczach.
Jakie było uzasadnienie dla tego projektu drogowego? Aby ludzie z Los Angeles i okolic mogli szybko uciec przed skutkami przerażającego ataku nuklearnego… Projekt drogi został porzucony w 1969 roku.
A dlaczego ten projekt porzucono? Z powodu cięć budżetowych, sprzeciwu konserwatorów i wyciszenia paranoi zimnowojennej. Stworzenie obszaru Sheep Mountain Wilderness w 1984 roku ostatecznie zakończyło na szczęście, raz na zawsze, projekt, który w trakcie realizacji nieodwracalnie uszkodziłby najgłębszy kanion południowej Kalifornii: The Narrows of the East Fork.
Ta dobrze sklasyfikowana droga gruntowa o umiarkowanej jakości prowadzi kilka mil w górę East Fork, gdzie nagle się kończy. Dzisiaj można przejechać pierwsze 1,8 mil Shoemaker Canyon Road, a następnie przejść lub przejechać rowerem górskim przez pozostałą część nieutwardzonej drogi, idąc równomiernie pod górę, aby dotrzeć do dwóch tuneli o długości; 1,8 i 2,6 mili na północ od zamkniętej bramy. W środku tunele są bardzo ciemne, co niektórym może się wydawać trochę niepokojące. Nie proponuję też odwiedzania Shoemaker Canyon w gorącym południowym słońcu, ponieważ na drodze nie ma praktycznie żadnego cienia z wyjątkiem korytarzy tunelu.