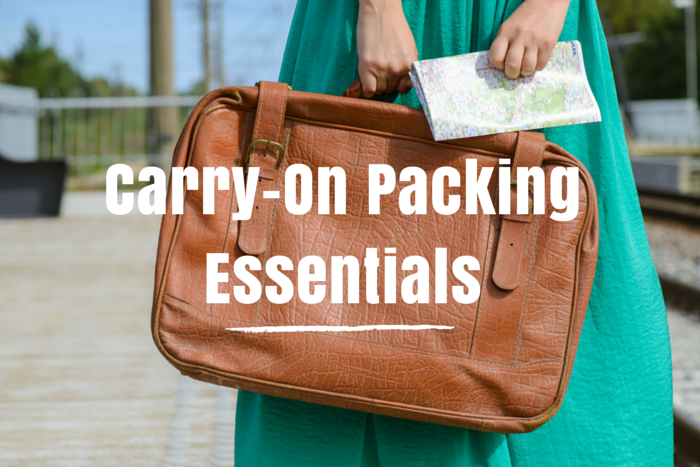 Savvy traveler – carry-on baggage
Today I wanted to tell you a little bit about what awaits us in connection with traveling by plane. In the case of travel by air transport, we have the opportunity to take with us the luggage of the so-called registered – that is, one that will take with us a journey in the hold and hand luggage, which we can take with us on board the plane. I will try to bring these two possibilities closer to you. Today we will deal with hand luggage. Let's start with the packing of luggage – and here usually starts the problem of how to pack, and what according to the regulations allowed to put in it?
Luggage – a bag or a suitcase?
Travelers often ask what better to buy for packaging: a bag or a suitcase. This question arises in both registered and hand luggage. So let's look at the advantages and disadvantages of both solutions: The travel bag is light, usually weighs up to half a kilo, it can be packed more, it is flexible so it adapts more to the content, but the basic problem is that you have to wear it for people especially in old age, it is quite burdensome, it also protects less what we put on it and clothes are usually crumpled. The suitcase usually has wheels, which makes it easier to move with it, because you do not need to carry it, hard and stiff walls protect the contents from damage and clothes from crushing. However, it is mainly heavier because usually the suitcase with the dimensions of hand luggage weighs about 2 kg, due to the rigid shape takes up more space and as a result, we can less stuff to pack under the same limit on size and weight When traveling by plane, we must adapt to the regulations:
Size matters!
Before we go on a journey, let's start by checking what is the maximum size of hand baggage permitted in a given airline. Remember that every extra kilo is immediately reflected on our pocket, because we will have to pay for so-called excess baggage, sometimes depending on the line air, a considerable sum, which will unexpectedly increase travel costs. For ease of reference, I give the permitted size of free luggage for several known European lines, where each person can take:
Ryanair – 2 pieces of luggage (1: max. 10kg and size up to 55 x 40 x 20cm, 2: small bag 35 x 20 x 20cm)
Wizzair – 1 piece of luggage and size 42 x 32 x 25cm
Air France – 2 pieces of luggage with a maximum total weight of 12kg (1 .: max. Size 55 x 35 x 25cm, 2: women's handbag, briefcase or laptop bag)
LOT – 2 pieces of luggage (1: max. 8kg and 55 x 40 x 23cm, 2: women's handbag or laptop bag 40 x 35 x 12cm)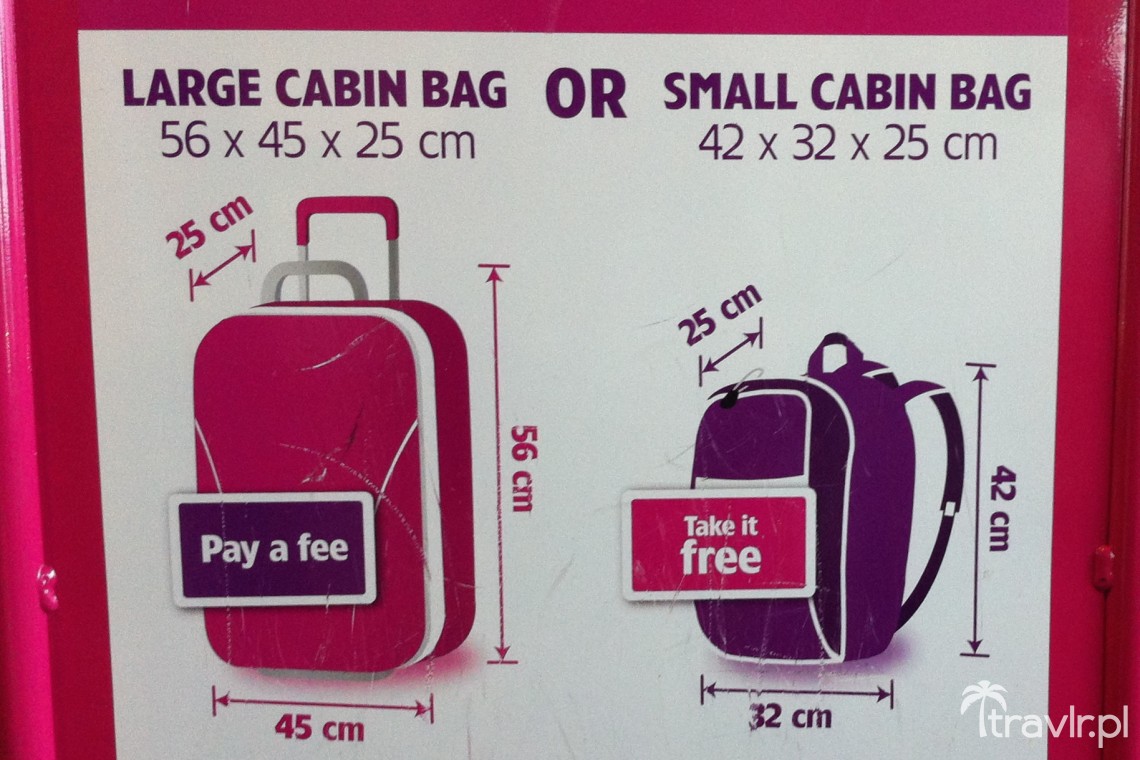 What can be packed in hand luggage
Cosmetics is the reason why many people decide to buy checked-in luggage. Before you do that, think about whether the amount of cosmetics allowed in the hand baggage limits is enough. Remember that it is always more convenient to take small amounts of so-called cosmetics. samples and when they are finished buying something in place, because it may turn out that what we took was enough
Cosmetics should be packed in a transparent bag (eg foil) with a size of max 20cm x 20cm) Instead of a large bottle, pour the cosmetics into small transparent containers, max. 100ml each. You can have up to 10 such vials – a total of 1 liter of cosmetics per person
if you fly for short distances, i.e. in Europe, do not take anything other than necessary!
If you have enough time to leave, you can buy or order a vanity case ready to transport cosmetics according to the recommended hand luggage standards. This beautician can be found in any drugstore or ordered online.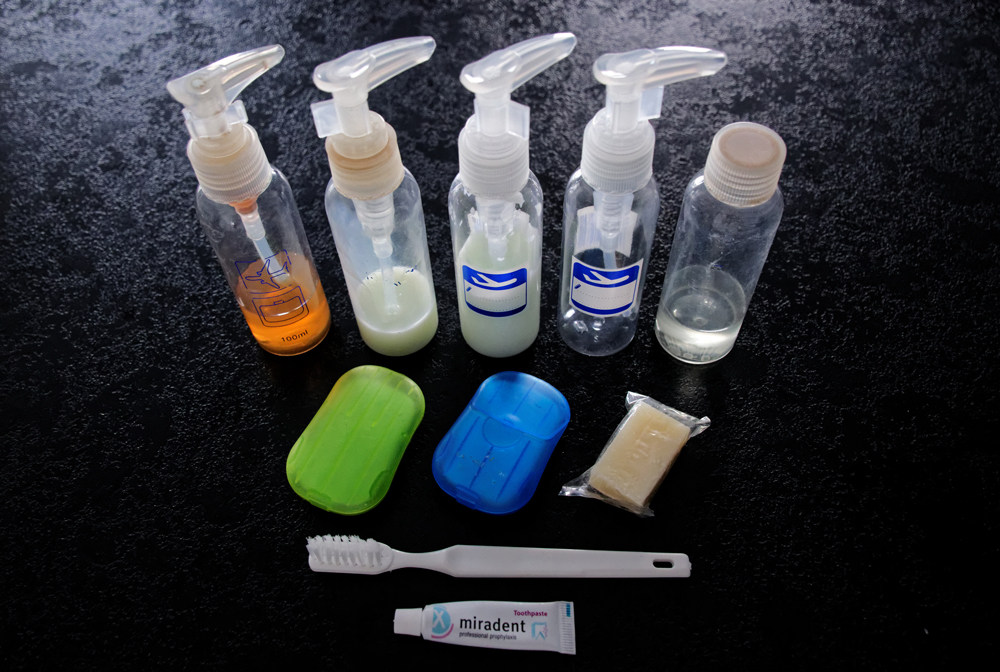 Clothes
Naturally, everything depends on the season and the place you choose, but here are some simple rules to follow. The heaviest boots (if you need more than one pair at all) take on the plane, similarly covering the outer coat, such as a coat, jacket or thick sweater, even if they are two pieces. It will not "matter" to the baggage limits. If the problem is not the weight, and the volume of clothes, and by the way we go on active rest, it is worth using the so-called compression bags. They are often waterproof and stain resistant, so they are useful in further travel, and in addition can significantly reduce the space occupied by our clothes .. Another idea are vacuum bags – plastic string bags, from which we vacuum the air through the valve, able to compress clothes by up to half volume. You can order them for a dozen or so zlotys, looking for "vacuum travel bags" on the internet. In addition, a very good way that I watched recently on Facebook is to roll clothes, this is a great idea because first the clothes take up much less space than the ones we put together, and besides, contrary to appearances, they crumple a lot less than if we put them in the "cube".
Food and drinks
Can you take food to the plane? The general rule is that hand luggage can be taken in handy consistency, and liquid and semi-solid (jellies, yoghurts, soups) are subject to the same restrictions as liquids. The exception is meals for small children. How does it look in practice? In London you can take a familiar sausage especially when it is packed tightly, and the amount will not raise suspicions that it may not be for "private use". You can bring hard cheeses from Italy or France, soft ones are treated like liquids. What Polish delicacies can you take to the USA? Unfortunately, virtually none. Usually there is no problem with home baked goods or packaged sweets, but it is a matter of good will of the customs officer. I once transported half a liter of honey from Poland to the USA from my father's apiary. In contrast, meat products and fresh fruit must be forgotten in the case of flights outside the EU. The question of alcohol remains. The original packed alcohol up to 70% in hand luggage is subject to the same restrictions as liquids. It's best to protect it with something soft and pack it into your checked baggage. Then it is still subject to customs and phytosanitary regulations. Limits do not matter in the case of alcohol bought in the duty-free zone at the airport. The most comprehensive source of knowledge regarding the liner in baggage is the so-called white list of the Civil Aviation Office. If you want to bring your loved ones' delicacies from other parts of the world, check the customs regulations first and choose food packed tightly. It does not seem to arouse interest among customs officers. Otherwise, our often-not-cheap purchase will end in the trash can.
Electronics and something to read
Hardly anyone travels now without a smartphone, laptop or tablet and a camera or camcorder. Each of these things not only weighs but also needs a charger and often a cover. If we add to this book (if you prefer reading from traditional, paper) and magazines, these things can often take up all your cabin baggage. There is nothing left here but to consider which of these things are really necessary and with which we can part with a few days.
Remember that most lines are not allowed to pack electronics into checked baggage, and if we do it and it will be damaged or lost, the lines will not be responsible for it and we will not get any compensation. However, it is very important! … Remember to pack the electronics as the last one! Going through check-in and security check at the airport, you will be asked to put your computer, tablet and other gadgets into special, separate containers. If they are on top – it will go smoothly and will not take unnecessary time
The amount of hand luggage – the limits depend on the internal regulations of the airline and for example I wanted to quote here for example a few provisions of the LOT line,
Depending on the class of travel, passengers may take with them on board:
LOT Business Class – 2 items each up to 9 kg
LOT Premium Economy (intercontinental flights) – 2 items, up to 12 kg in total (1 item max. 8 kg)
LOT Premium Economy (international flights) – 1 piece up to 8 kg
LOT Economy Class – 1 piece up to 8 kg
LOT Economy Simple – 1 piece up to 8 kg
Hand luggage should fit in the upper shelf on the deck or under the preceding seat.
In the case of flights operated by DH4 planes, the "Delivery at Aircraft" procedure applies. When boarding, the hand luggage is loaded into the hold of the baggage during the flight and returned to the passenger after the aircraft has landed. In this case, before handing over the luggage, all valuable items (eg computer, money, keys, documents, etc.) should be taken out and taken on board by the passenger.
Additionally, as a part of the ticket price, as a hand luggage a passenger can take with them:
a women's bag or a men's bag or a laptop (dimensions 40 cm x 35 cm x 12 cm)
for traveling with children – food and folding stroller or stroller
People with disabilities can take with them the following items necessary during the trip:
wheelchair (the wheelchair will be loaded into the luggage compartment before boarding and will be returned to the passenger after landing)
bullets or other medical equipment for personal use
Information on articles not allowed on the plane. Limitations on the carriage of liquids in hand baggage. On flights beginning in Europe on board an aircraft, liquids may only be taken in limited quantities. The definition of liquid substances includes, inter alia;
perfumes,
gels (e.g. shampoos, shower gels),
pastes,
cosmetics in a liquid form (lip gloss, foundation, mascara),
creams, conditioners and olives,
sprays,
liquid substances under pressure (e.g. shaving gels, deodorants),
water and other drinks, soups, syrups,
other substances with similar consistency.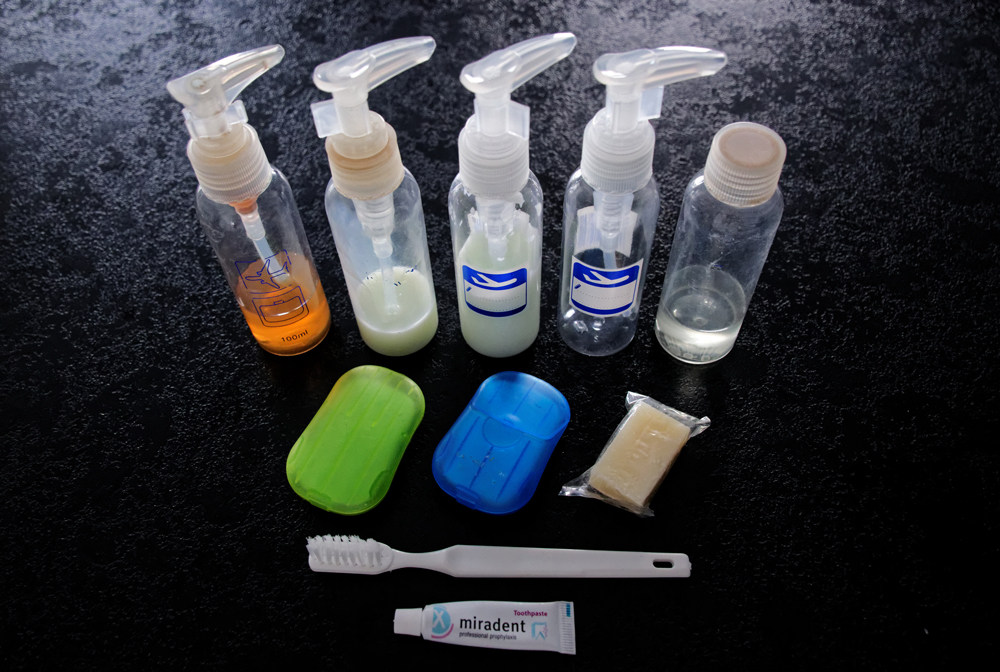 Containers with liquids and similar products can have a capacity of up to 100 ml each (the maximum capacity indicated on the packaging printout applies). All liquid containers should fit in a plastic bag not exceeding 1-liter capacity.
In order to increase travel comfort and reduce troublesome situations during security checks, especially for transfer passengers, from January 31, 2014, the European Union has changed rules for the carriage of liquids, aerosols and gels.
Not all restrictions will be lifted. Still only some categories of liquids will be allowed to be carried in cabin luggage. All liquids carried must be presented at a security checkpoint at EU airports separately from baggage.
PERMITTED:
liquids in containers up to 100 ml packaged in a transparent, single zip-lock type of bag with a capacity of up to 1 liter;
dietetic products and medications, including baby food, necessary for the duration of the journey;
liquids purchased at duty-free stores of any airport or airline, provided they are packed in a special, marked, compliant bag.
The bag cannot be opened by the passenger until reaching the destination airport except when the personnel performing the security check ask for it. If the passenger travels further, he / she should inform the person performing the security check so that the purchased liquid after inspection is repacked in a new bag. In the case of duty-free shopping, the bag must not show signs of opening or tearing and there must be proof of purchase inside. Despite these changes, the personnel performing security checks at the airport remain entitled to refuse the passenger's admission to a flight with safety-related doubt. All other liquids aerosols and gels should be placed in checked baggage. A list of certain hazardous materials allowed for carriage only in cabin luggage (unacceptable carriage in checked-in baggage)
Barometers and mercury thermometers carried by a representative of the government's weather authority or similar official institution.
Lithium-ion batteries with a capacity of over 100 Wh, but not exceeding 160 Wh, used for electronic devices. No more than two spare batteries can be carried only in hand baggage. Each of these batteries must be separately protected to protect against short circuits. Devices equipped with such a battery can be given in checked baggage as well as cabin luggage.
Spare lithium or lithium-ion batteries or accumulators for electronic devices may only be carried in cabin luggage. The batteries must be separately protected against short circuits.
Fuel cell assemblies and spare cartridges (cartridges) fueling portable electronic devices (eg cameras, mobile phones, portable computers and cameras).
You can also use more detailed information on hand baggage contained in the link below
http://biznes.onet.pl/wiadomosci/transport/bagaz-podreczny-w-samolocie-jakie-sa-wymiary-waga-ile-sztuk/88nvbk
If after reading this post you will take advantage of my advice, the trip you are going to be successful and peaceful and the holiday will be nice to remember and that is what I wanted to wish you.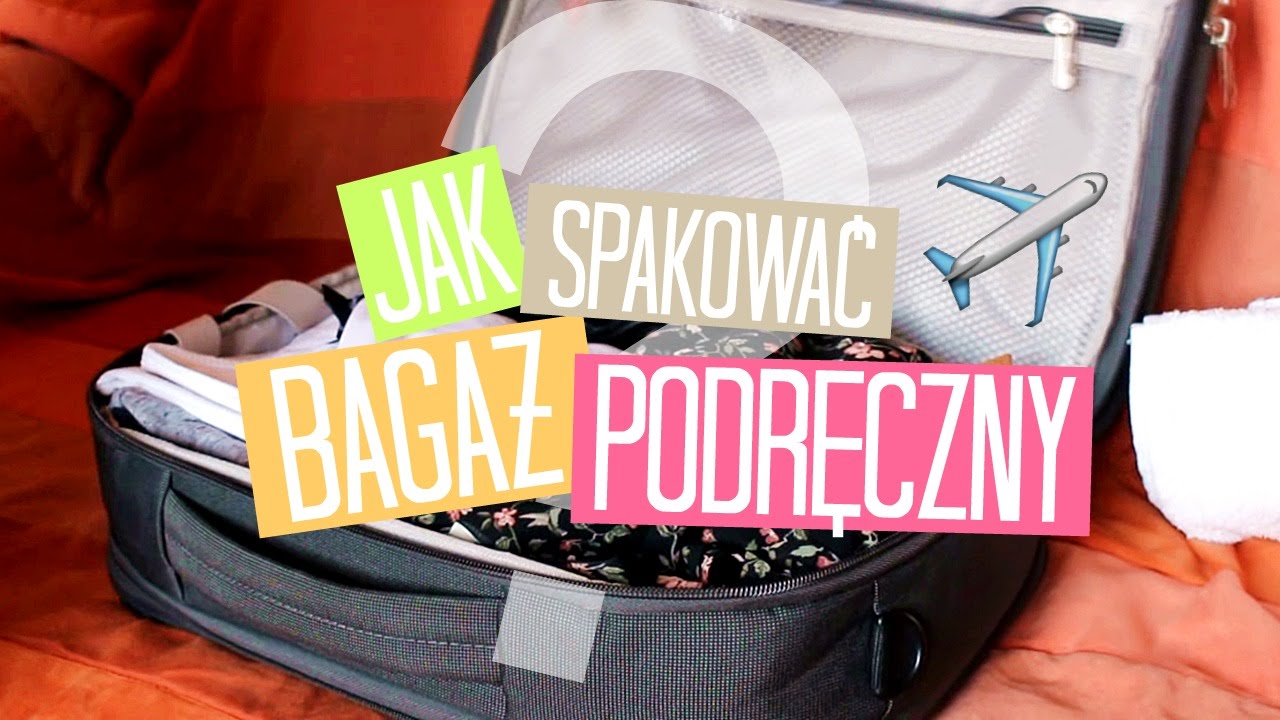 Dzisiaj chciałam opowiedzieć wam trochę o tym co nas czeka w związku z podróżowaniem samolotem. W wypadku konieczności podróży transportem lotniczym mamy możliwość zabrania ze sobą bagażu tak zwanego rejestrowanego – czyli takiego który odbędzie z nami podróż w luku bagażowym oraz bagażu podrecznego, który bedziemy mogli zabrać ze sobą na pokład samolotu. Postaram się przybliżyć wam te dwie możliwości. Dzisiaj zajmiemy się bagażem podręcznym.                                                                                                                         Zacznijmy od pakowania bagażu  – i tu zwykle zaczyna sie problem jak się spakować, oraz co według przepisów wolno do niego włożyć ?
Bagaż – torba czy walizka?
Podróżni często pytają, co lepiej kupić do pakowania: torbę czy walizkę. Pytanie to pojawia się zarówno w przypadku bagażu rejestrowanego jak i podręcznego. Warto więc przyjrzeć się wadom i zaletom obu rozwiązań: Torba podróżna jest lekka, zwykle waży do pół kilograma, można do niej więcej zapakować, jest elastyczna więc bardziej dopasowuje się do zawartości, natomiast podstawowy problem to jest to, że trzeba ją nosić co dla osób szczególnie w starszym wieku jest dość uciażliwe, poza tym słabiej chroni to co do niej wkładamy oraz ubrania zwykle się gniotą. Walizka natomiast ma przeważnie kółka co pozwala łatwiej sie z nia przemieszczac, gdyż nie trzeba jej nosić, twarde i sztywne ścianki zabezpieczają zawartość przed uszkodzeniem i ubrania przed zgnieceniem. Natomiast jest przedewszystkim cięższa bo zwykle walizka o wymiarach bagażu podręcznego waży sama około 2 kg, z powodu sztywnego kształtu zajmuje więcej miejsca i w rezultacie możemy mniej rzeczy do niej zapakować w ramach tego samego limitu dotyczącego rozmiaru i wagi
Podróżując samolotem musimy się dostosować do obowiązujących przepisów:
Rozmiar ma znaczenie!
Zanim wybierzemy sie w podróż, zacznijmy od sprawdzenia jaki jest maksymalny rozmiar bagażu podręcznego dopuszczalnych w danej linii lotniczej.Pamiętajcie, że każdy dodatkowy kilogram natychmiast odbija się na naszej kieszeni, gdyż będziemy musieli zapłacić za tak zwany nadbagaż i to czasem, w zależności od linii lotniczych, niebagatelną sumę, co zwiekszy nam niespodziewanie koszty podróży. Dla ułatwienia podaję dopuszczalne rozmiary darmowego bagażu dla kilku znanych europejskich linii, gdzie każda osoba może zabrać:
Ryanair – 2 sztuki bagażu (1.: maks. 10kg i rozmiar do 55 x 40 x 20cm, 2: mała torebka 35 x 20 x 20cm)
Wizzair – 1 sztuka bagażu i rozmiarze 42 x 32 x 25cm
Air France – 2 sztuki bagażu o maksymalnej łącznej wadze 12kg (1.: maks. rozmiar 55 x 35 x 25cm, 2.: damska torebka, aktówka lub torba na laptopa)
LOT – 2 sztuki bagażu (1.: maks. 8kg i 55 x 40 x 23cm, 2.: damska torebka lub torba na laptopa 40 x 35 x 12cm)

Co wolno zapakować do bagażu podręcznego
Kosmetyki to powód, dla którego wiele osób decyduje się wykupić bagaż rejestrowany. Zanim to jednak zrobicie, zastanówcie się, czy nie wystarczy nam ilość kosmetyków dopuszczalna w limitach bagażu podręcznego. Pamiętajcie, że zawsze wygodniej wziąść małe ilości  kosmetyków tzw. próbki a kiedy się skończą dokupić coś na miejscu, bo może się okazać, że to co wzieliśmy wystarczyło w zupełności.
Kosmetyki należy zapakować w przezroczystą torebkę (np. foliową) o rozmiarach max 20cm x 20cm) Zamiast dużej butelki przelejcie kosmetyki do małych przezroczystych pojemników, max 100ml każdy. Można mieć nawet 10 takich fiolek – w sumie 1 litr kosmetyków na osobę
jeśli latacie na krótkie odległości, np po Europie, nie zabierajcie rzeczy innych niż niezbędne!
Jeśli do wylotu zostało wystarczająco dużo czasu, można kupić lub zamówić kosmetyczkę przygotowaną do przewozu kosmetyków według zalecanych norm bagażu podręcznego. Taką kosmetyczkę można z powodzeniem  znaleźć w każdej drogerii lub zamówić przez Internet.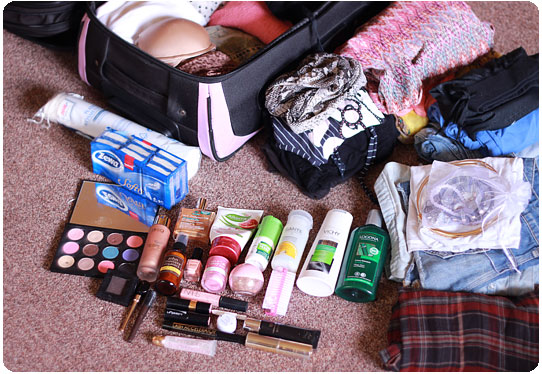 Ubrania
Naturalnie wszystko zależy od pory roku i miejsca do którego sie wybieracie, ale i tutaj jest kilka prostych zasad, których należy przestrzegać. Najcięższe buty (jeśli w ogóle potrzebujecie więcej niż jedną parę) zabierzcie na sobie do samolotu, podobnie okrycie wierzchnie takie jak płaszcz , kurtka czy gruby sweter, nawet jeśli są to dwie sztuki. To nie będzie "liczyło się" do limitów bagażowych. Jeśli problemem jest nie waga, a objętość ubrań, a przy okazji udajemy się na aktywny wypoczynek, warto skorzystać z tzw. worków kompresyjnych. Często są wodo- i plamoodporne, więc przydadzą się w dalszej podróży, a dodatkowo potrafią znacznie ograniczyć przestrzeń zajmowaną przez nasze ubrania. Innym pomysłem są worki próżniowe – plastikowe strunowe worki, z których przez zawór odciągamy odkurzaczem powietrze, potrafiące skompresować ubrania nawet o połowę objętości. Zamówić je można za kilkanaście złotych, szukając w internecie hasła "worki próżniowe podróżne". Poza tym bardzo dobrym sposobem który ostatnio ogladałam na Facebooku jest rolowanie ubrań, jest to super pomysł gdyż po pierwsze ubrania zajmują o wiele mniej miejsca niż te które składamy, a poza tym wbrew pozorom gniotą się o wiele mniej niż gdybyśmy je złożyli w "kostkę".
Jedzenie i napoje
Czy można zabrać jedzenie do samolotu? Generalna zasada jest taka, że do bagażu podręcznego można zabrać jedzenie w konsystencji stałej, a płynne i półpłynne (galaretki, jogurty, zupki) podlegają tym samym ograniczeniom, co płyny. Wyjątkiem są posiłki dla małych dzieci.
Jak to wygląda w praktyce? Krewnym w Londynie możesz zawieźć swojską kiełbasę zwłaszcza wtedy, gdy jest szczelnie zapakowana, a jej ilość nie wzbudzi podejrzeń, że może nie być na "prywatny użytek". Z Włoch czy z Francji przywieziesz twarde sery bez problemu, miękkie są traktowane jak płyny. Jakie polskie przysmaki można zabrać do USA? Niestety praktycznie żadnych. Zazwyczaj nie ma problemu z domowymi wypiekami albo pakowanymi słodyczami, ale to kwestia dobrej woli celnika. Ja kiedyś przewiozłam bez problemu z Polski do USA pół litra miodu w słoiku z pasieki mojego ojca. Natomiast o produktach mięsnych i świeżych owocach trzeba zapomnieć w przypadku lotów poza UE.
Pozostaje jeszcze kwestia alkoholu. Oryginalnie zapakowany alkohol do 70% w bagażu podręcznym podlega tym samym ograniczeniom co płyny. Najlepiej zabezpieczyć go czymś miękkim i zapakować do bagażu rejestrowanego. Wtedy nadal podlega przepisom celnym i fitosanitarnym. Limity nie mają znaczenia w przypadku alkoholu kupowanego w strefie bezcłowej na lotnisku. Najpełniejszym źródłem wiedzy dotyczącej przewodu rzeczy w bagażu lotniczym jest tak zwana  biała lista Urzędu Lotnictwa Cywilnego.
Jeżeli chcecie przywieźć bliskim przysmaki z innych stron świata, sprawdźcie najpierw przepisy celne i wybierajcie jedzenie szczelnie pakowane. Takie raczej nie wzbudza zainteresowania celników. W innym wypadku nasz, czesto niezbyt tani zakup wyląduje w koszu.
Elektronika i coś do czytania
Mało kto podróżuje teraz bez smartfona, laptopa czy tableta oraz aparatu fotograficznego lub kamery. Każda z tych rzeczy nie tylko waży, ale też potrzebuje swojej ładowarki i często pokrowca. Jeśli dołożymy do tego książki (jeśli preferujecie czytanie z tradycyjnych, papierowych) oraz czasopisma, same te rzeczy potrafią często zająć cały bagaż podręczny. Nie pozostaje tu nic poza zastanowieniem się, które z tych rzeczy są naprawdę niezbędne, a z którymi możemy rozstać się na kilka dni.
Pamiętajcie, że w większości linii nie wolno pakować elektroniki do bagażu rejestrowanego, a jeśli to zrobimy i ulegnie on uszkodzeniu lub zaginie, linie nie będą za to odpowiedzialne i nie dostaniemy rekompensaty.  Natomiast bardzo ważne – pamiętajcie, aby elektronikę pakować jako ostatnią! Przechodząc bowiem przez odprawę i kontrolę bezpieczeństwa na lotnisku, zostaniecie poproszeni o wyłożenie komputera, tableta oraz innych gadżetów do specjalnych, oddzielnych pojemników. Jeśli będą na wierzchu – pójdzie to sprawnie i nie zajmie zbędnego czasu.
Ilość bagażu podręcznego – limity zależą od przepisów wewnętrznych danej linii lotniczej i tak dla przykładu chciałam zacytować tutaj dla przykładu kilka przepisów  linii LOT,
W zależności od klasy podróży pasażerowie mogą zabrać ze sobą na pokład:
LOT Business Class – 2 sztuki każda do 9 kg
LOT Premium Economy (loty międzykontynentalne) – 2 sztuki, w sumie do 12 kg (1 sztuka max. 8 kg)
LOT Premium Economy (loty międzynarodowe) – 1 sztuka do 8 kg
LOT Economy Class – 1 sztuka do 8 kg
LOT Economy Simple – 1 sztuka do 8 kg
Bagaż podręczny powinien zmieścić się w górnej półce na pokładzie lub pod poprzedzającym fotelem.
W przypadku rejsów obsługiwanych samolotami DH4, obowiązuje procedura "Delivery at Aircraft". Podczas wejścia na pokład bagaż podręczny zostaje załadowany do luku bagażowego na czas lotu i zostaje zwrócony pasażerowi po wylądowaniu samolotu. W takim przypadku, przed oddaniem bagażu, wszystkie rzeczy wartościowe (np. komputer, pieniądze, klucze, dokumenty itp.) powinny być przez pasażera wyjęte i zabrane na pokład.
Dodatkowo, w ramach ceny biletu, jako bagaż podręczny pasażer może zabrać ze sobą:
torebkę damską lub torbę męską lub laptopa (wymiary 40 cm x 35 cm x 12 cm)
dla podróżujących z dziećmi – pokarm i składany wózek dla dziecka lub spacerówkę
Osoby niepełnosprawne mogą zabrać ze sobą następujące przedmioty niezbędne w trakcie podróży:
wózek inwalidzki (wózek inwalidzki zostanie załadowany do bagażnika przed wejściem na pokład i zostanie zwrócony pasażerowi po wylądowaniu)
kule lub inny sprzęt medyczny do użytku osobistego
Informacje na temat artykułow niedozwolonych w samolocieOgraniczenia dotyczące przewozu płynów w bagażu podręcznymNa rejsach rozpoczynających się w Europie na pokład samolotu wolno zabierać płyny jedynie w ograniczonych ilościach.Definicja substancji płynnych obejmuje między innymi;
perfumy,
żele (np. do włosów, kąpieli),
pasty,
kosmetyki w płynnej formie (błyszczyk, podkład, tusz do rzęs),
kremy, odżywki i oliwki,
spraye,
substancje płynne pod ciśnieniem (np. żele do golenia, dezodoranty),
wodę i inne napoje, zupy, syropy,
inne substancje o podobnej konsystencji.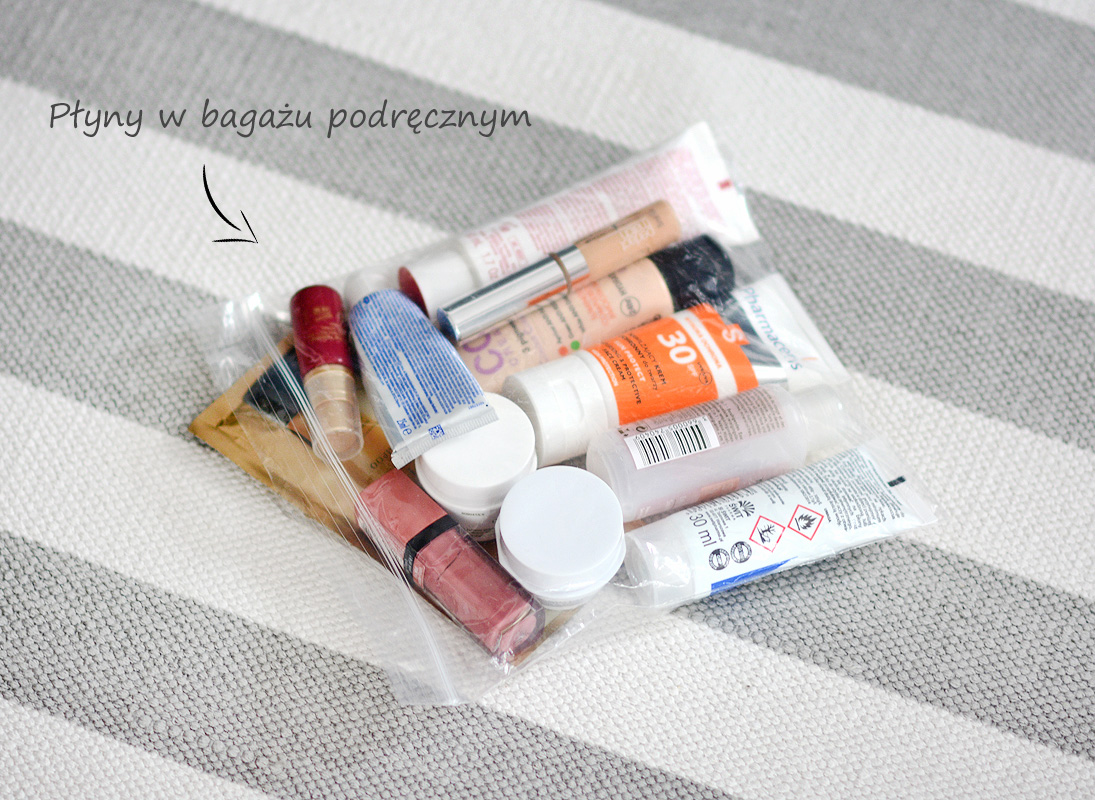 Pojemniki z płynami i podobnymi produktami mogą mieć pojemność do 100 ml każdy (obowiązuje maksymalna pojemność podana na nadruku opakowania). Wszystkie pojemniki z płynami powinny zmieścić się w plastikowej torebce nieprzekraczającej pojemności 1 litra.
W celu zwiększenia komfortu podróży i ograniczenia kłopotliwych sytuacji podczas kontroli bezpieczeństwa, szczególnie dla pasażerów przesiadających się, od 31 stycznia 2014 w Unii Europejskiej obowiązują zmienione zasady przewozu płynów, aerozoli i żeli
Nie wszystkie ograniczenia zostaną zniesione. Nadal tylko niektóre kategorie płynów będą dozwolone do przewozu w bagażu kabinowym. Wszystkie płyny przewożone muszą być okazane w punkcie kontroli bezpieczeństwa na lotniskach UE oddzielnie od bagażu.
DOZWOLONE SĄ:
płyny w pojemnikach do 100 ml zapakowane w przeźroczystą, możliwą do otwarcia/zamknięcia pojedynczą torbę o pojemności do 1 litra;
produkty dietetyczne i medykamenty, włącznie z pokarmem dla dzieci niezbędne na czas podróży;
płyny zakupione w sklepach duty-free dowolnego lotniska lub linii lotniczej pod warunkiem zapakowania w specjalną oznakowaną , zgodną z przepisami torbę.
Torba nie może być otwierana przez pasażera aż do osiągnięcia lotniska docelowego za wyjątkiem sytuacji gdy personel wykonujący kontrolę bezpieczeństwa o to poprosi. Jeśli pasażer odbywa dalszą podróż powinien uprzedzić o tym osoby wykonujące kontrolę bezpieczeństwa, tak aby zakupiony płyn po kontroli został ponownie zapakowany w nową torbę.          W przypadku zakupów duty-free torba nie może nosić oznak otwarcia lub rozerwania a w środku musi znajdować się dowód zakupu.
Pomimo tych zmian personel wykonujący kontrolę bezpieczeństwa na lotnisku pozostaje uprawniony do odmowy dopuszczenia pasażera na lot z płynem budzącym wątpliwości pod względem bezpieczeństwa.Wszystkie inne płyny aerozole i żele powinny zostać umieszczone w bagażu rejestrowanym.
Wykaz niektórych materiałów niebezpiecznych dozwolonych do przewozu jedynie w bagażu kabinowym (nie dozwolony przewóz w bagażu rejestrowanym).
Barometry i termometry rtęciowe przewożone przez przedstawiciela rządowej instytucji ds. pogody lub podobnej oficjalnej instytucji.
Baterie litowo-jonowe o wydajności powyżej 100 Wh, ale nie przekraczającej 160 Wh używane do urządzeń elektronicznych. Nie więcej niż dwie zapasowe baterie mogą być przewożone wyłącznie w bagażu podręcznym. Każda z tych baterii, musi być osobno zabezpieczona, aby ochronić przed zwarciem. Urządzenia wyposażone w taką baterię, mogą być nadane w bagażu rejestrowanym jak i bagażu kabinowym.
Zapasowe litowe lub litowo-jonowe baterie lub akumulatory do urządzeń elektronicznych mogą być przewożone jedynie w bagażu kabinowym. Baterie muszą być oddzielnie zabezpieczone przed zwarciem.
Zespoły ogniw paliwowych i zapasowe kasety (naboje) paliwowe zasilające przenośnie urządzenia elektroniczne (np. aparaty fotograficzne, telefony komórkowe, przenośne komputery i kamery).
Możecie też skorzystać z  bardziej szczegółowych informacji dotyczących bagażu podręcznego zawartych w linku poniżej
http://biznes.onet.pl/wiadomosci/transport/bagaz-podreczny-w-samolocie-jakie-sa-wymiary-waga-ile-sztuk/88nvbk
Jeżeli  po przeczytaniu tego postu skorzystacie z moich rad podróż w którą sie wybieracie będzie udana i spokojna a wakacje będziecie miło wspominać czego wam życzę.