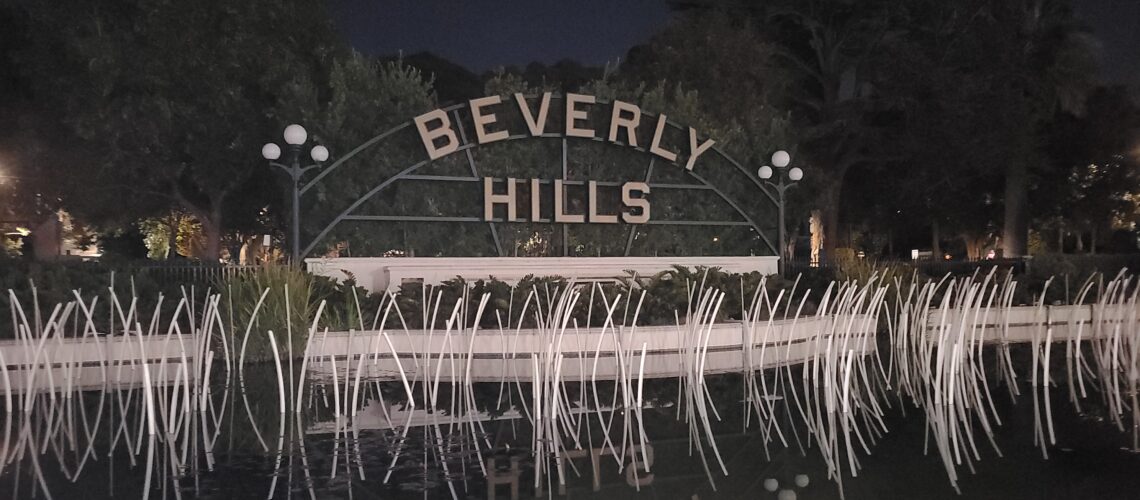 California small towns – Beverly Hills, part 2: attractions
Beverly Hills is a wealthy community in a beautiful hilly area where people live in comfort and ease among villas, luxury cars, well-maintained tree-lined streets, shops, luxury boutiques, and fine restaurants. There is no shortage of hotels, most of them have many stars, churches, parks, and the town hall, but it lacks factories, hospitals, and cemeteries. That's why they say "no one is born and no one dies in Beverly Hills".
Given the style, charm and money, it is not surprising that one of the cities with which it is paired is Cannes on the French Riviera. However, along the streets of Beverly Hills, you don't feel like you're in a particularly snobbish place, because even though you will pass by stunning buildings from an architectural perspective, where limousines and cars from the high-end brands such as Ferrari, Cadillac, and Rolls Royce are sold, it's not so ostentatious. The first impression that you will get of Beverly Hills is that it is a really pleasant place, especially because of its parks.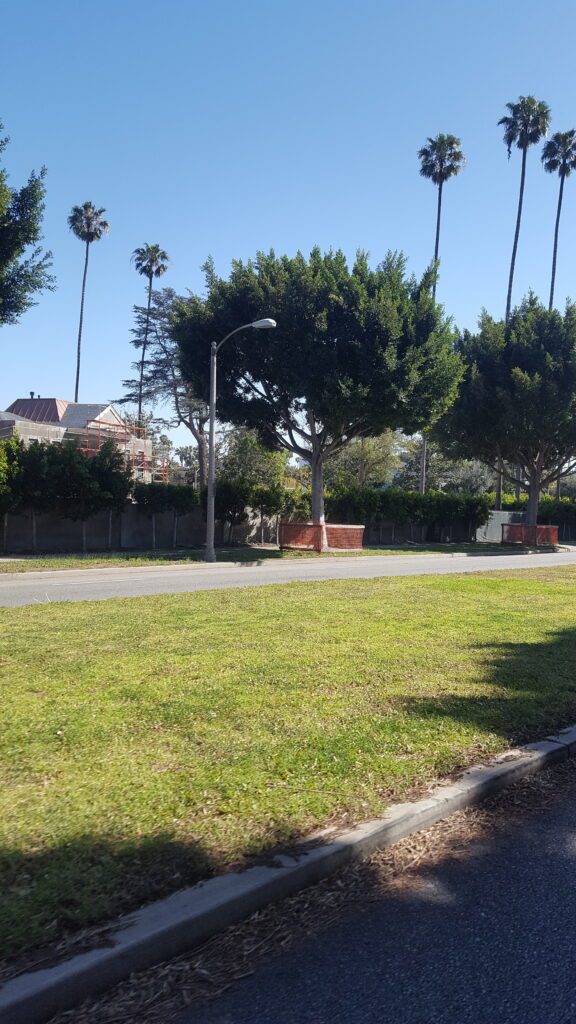 Stars homes
Pickfair
Back in 20s actors Douglas Fairbanks and Mary Pickford, an iconic couple of the cinema of the time, settled on Summit Drive Hill in a house called Pickfair. The house has become monumental as a result of a series of renovations that cost about $41 million at that time. Many other Hollywood artists followed their example and set off the trend to build their villas in Beverly Hills.
The Greystone Mansion
The Greystone Mansion (905 Loma Vista Dr) is a 55-room residence created by an oil tycoon for his son. After his death, his son moved into the house with his family, but they he was soon murdered. His death stays still unsolved. Local residents say his spirit is still haunting the walls of the huge building. Regardless of whether you are a fan of paranormal phenomena or not, the property is worth visiting, if only because of the unique architecture and the fact that in the thirties it was the most expensive household in the entire United States. In 1965, the city of Beverly Hills bought the property and since 1971, the gardens act as a museum, the entrance to which is free. As for the mansion, it can be rented for special events such as private parties, weddings or filming. Some of the movies that were filmed at the Greystone Mansion are "X Men: First Class", "The Social Network", "Spider-Man 3", "Big Lebowski" and "There Will Be Blood." A real treat for movie fans.
This is a popular location for weddings, meetings, photoshoots, and various events. We'd like to point out a few.
Murder in the Manor is a show that takes place inside the villa. Admission to the show is $65 and it lasts about 2 hours and 45 minutes. The cast of professional actors put on a performance in the mansion's lavish rooms that makes you feel as if you were in an episode of "Columbo" or "Murder She Wrote" among murderers, mysteries, suspects, and interrogations.
The grand Hollywood Ball is an occasion where celebrities gather during a fashion event.
The Concours d'Elegance is an exhibition of expensive vintage cars that takes place each year in May. While this event seems similar to the one held yearly on Father's Day in the Rodeo Drive, the Concours d'Elegance aims to raise funds to restore the Doheny Estate, a historic property.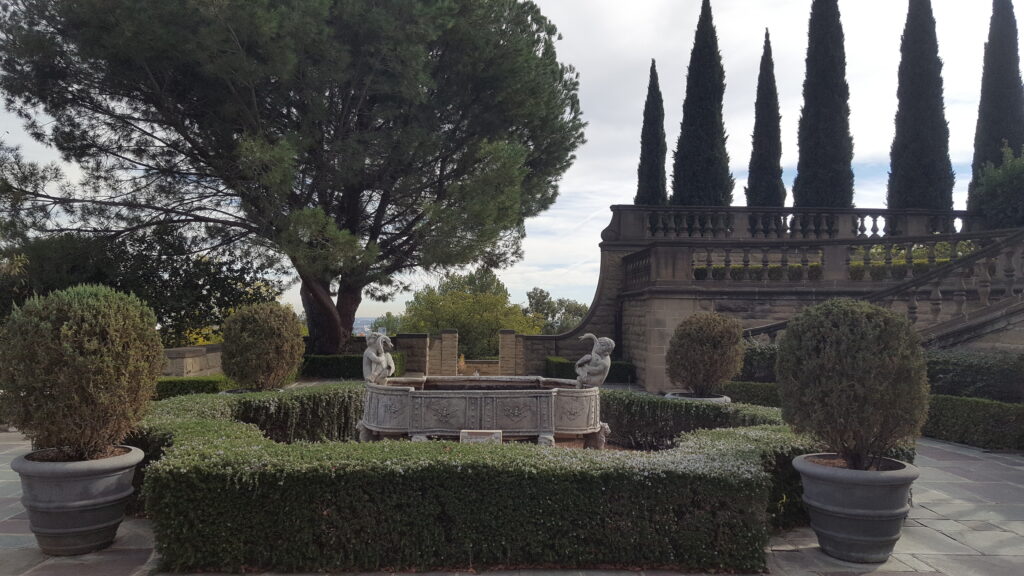 Spadena House
Spadena House (516 Walden Dr), a truly unique house nicknamed the Witch's House. It starkly contrasts the elegant and luxurious mansions, but it is certainly noteworthy for its particularity and originality. The style of the house, which was designed by Hollywood art director Harry Oliver, is called storybook architecture, which was fashionable in the 20th century in the United States and England. Spadena House is characterized by a straw roof, cobblestone, strange shapes, bizarre structures, and wavy lines. It is certainly not something you see every day and it is worth visiting.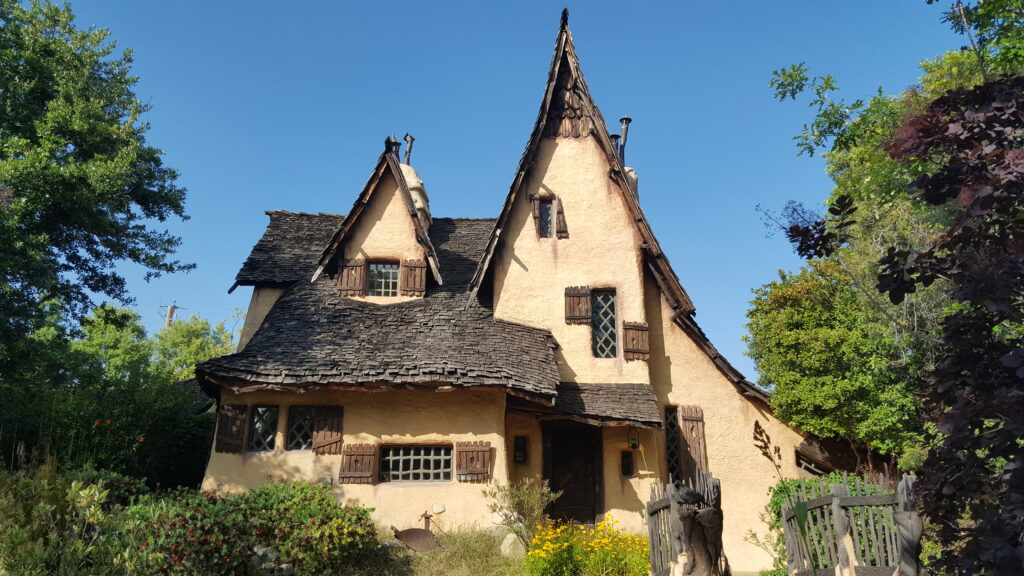 Greenacres
Harold Lloyd, who was a famous director, film producer, and silent actor in the 1920s (Chaplin and Keaton's tenacious "rival"), built his large villa, Greenacres, at 1740 Green Acres Drive and lived there until his death in 1971. Since then the house and gardens have been used as locations for films, civic events, and charity galas.
Virginia Robinson Gardens
Virginia Robinson Gardens (1008 Elden Way), the first villa in Beverly Hills, was built in 1911 and now known for its legendary parties. The gardens are divided into five sections where citrus fruits, magnolias, palm trees, roses, camellias, gardenias, azaleas, bananas, ginger, and herbs grow. To visit the gardens, you must reserve a tour ($15/adults $5/children 5-12).
Main streets
Some of the roads where stars have taken up residence are Alpine Dr, Roxbury Dr, Carolwood Dr, Bedford Dr, Hillcrest Dr, Maple Dr, Rexford Dr, Summit Dr, Tower Rd, and Benedict Canyon Rd. This last road is one of the roads that continue to Bel Air, a luxurious residential area inhabited by celebrities that is less than twenty minutes from Beverly Hills. Holmby Hills is a residential area between Bel Air and Beverly Hills that is worth mentioning because of its unique street lighting and the homes of celebrities such as Barbara Streisand, Frank Sinatra, and Walt Disney.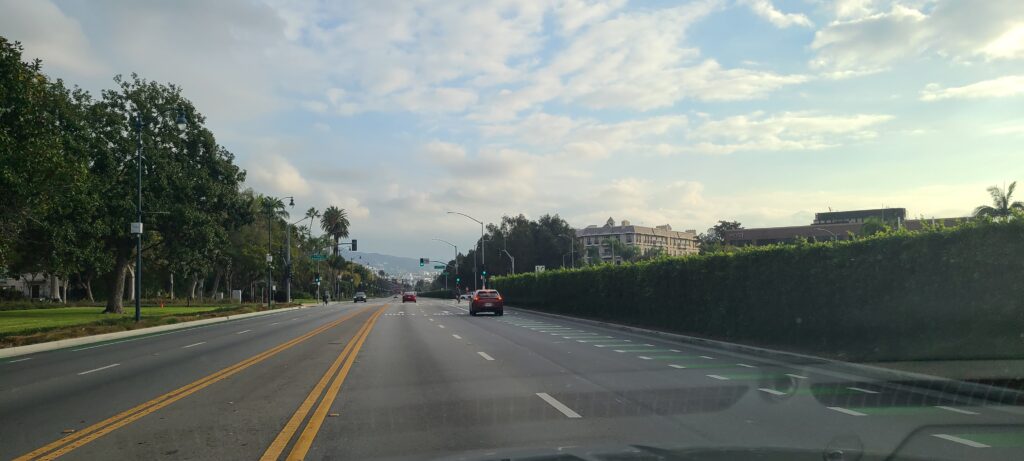 The Golden Triangle
The area bordered by Santa Monica Boulevard, Wilshire Boulevard, and North Crescent Drive is a shopping area in Beverly Hills also known as the "Golden Triangle". These streets are lined with some of the most lavish shops, restaurants, and art galleries in the world. Beverly Hills is cut in two by a world-famous artery, Rodeo Drive, the embodiment of luxury. It was one of the first Spanish settlements, but now it is the city's most famous shopping street and one of the most renowned places in the world to shop at Italian designer boutiques, the most fashionable high-end stores, and world-class jewelry stores.
Two Rodeo closely resembles an European shopping street. It took an astronomical amount of money to build Two Rodeo. You will know you have arrived when you see a particular sculpture, a shiny bust called Torso made by the artist Robert Graham. This is also the starting point of the Walk of Style where not only the names of stylists, jewelers, and fashion icons are engraved on the ground, but also names of celebrities who are symbols of style and elegance and have made history. It was in this area that the scene from Pretty Woman was shot, in which Julia Roberts walked around and did not go unnoticed in the boutiques. Those who have seen the movie will remember this scene.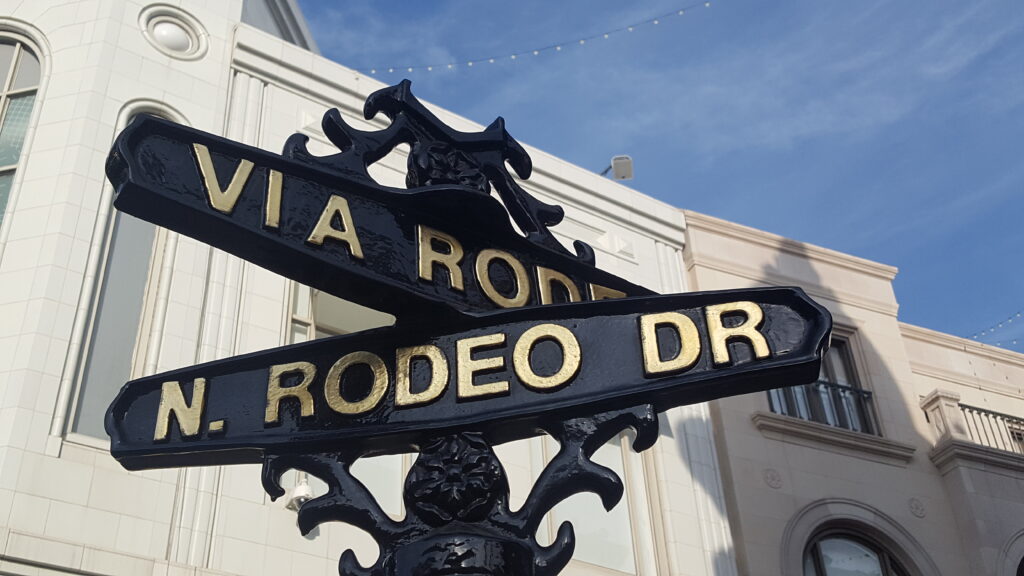 In addition to Rodeo Drive, there are other places to shop in Beverly Hills, for example, the Beverly Center (8500 Beverly Blvd), the Brentwood Place Shopping Center (12019 Wilshire Blvd), or the Granville Plaza (11819 Wilshire Blvd), where you can find the best of American department stores that sell elegant and luxury products.
Other attractions
Beverly Hills Hotel
It was here that world-class stars such as Frank Sinatra or the eccentric producer Howard Hughes, who reportedly asked for his breakfast to be served on a nearby tree because he didn't want to leave the room, stayed. The place was so popular that band The Eagles put the photo of it on the cover of their album, "Hotel California".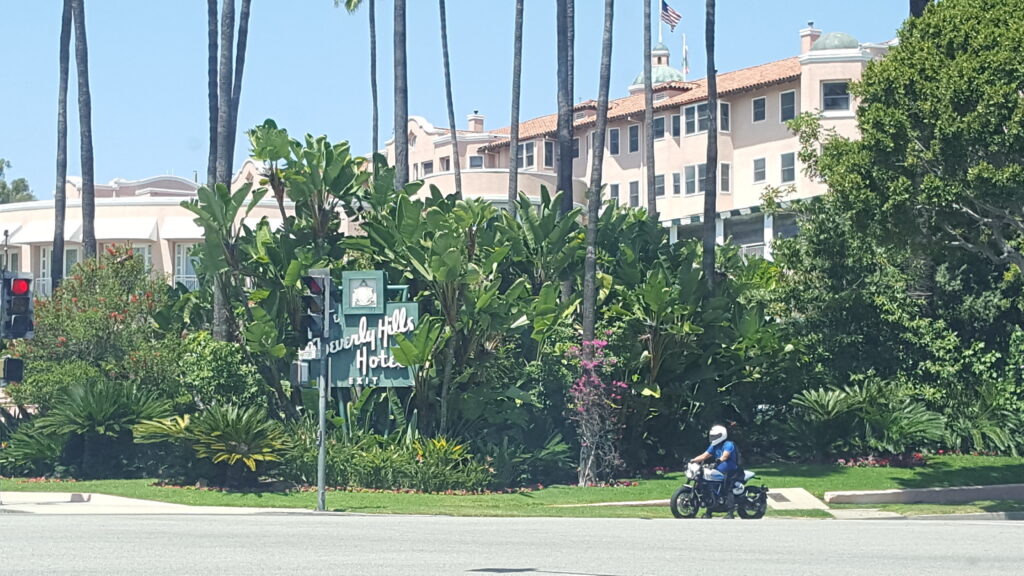 The Paley Center for Media
A unique place for everyone who loves American film productions. This unusual museum, apart from temporary exhibitions of props, costumes and movie posters, offers access to a public archive which stores almost all TV programs and radio programs produced since 1919, as well as advertisements since 1949. The center also has a cinema room for 150 people, in which famous film producers and actors often give lectures and seminars.
The Cheese Store
One of the world's largest cheese stores offers over 500 kinds of cheese, and, while standing in line or indulging in tasting; you can meet numerous celebrities who are doing their everyday shopping here.
Civic Center and City Hall
The Beverly Hills Civic Center (455 N. Rexford Dr) with its monumental Spanish Colonial-style City Hall and tiled dome is the symbol of the city and is really very beautiful. The building dates back to 1932 and is now connected to the new civic center through courtyards, balconies, corridors with arcades that echo the Spanish-Colonial style.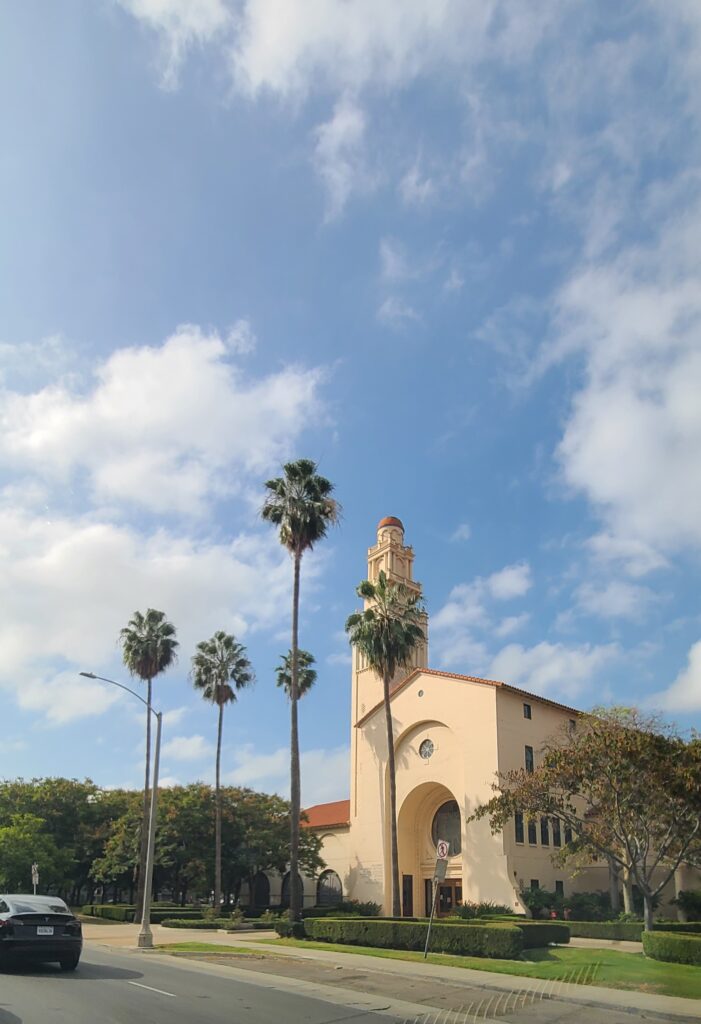 9/11 Memorial Garden
The 9/11 Memorial Garden (445 N. Rexford Dr), which is owned by the fire department, was inaugurated on September 11, 2011, and was built to remember the tragedy of the terrorist attacks in 2001. Here there are representations of the Twin Towers, the Pentagon, and the field in Pennsylvania where the massacres took place. The purpose of this memorial is to honor those who lost their lives in the bombing, those who maintain security in the country, as well as those who still believe in equality and in the right to life, liberty, and the pursuit of happiness. The 9/11 Memorial Garden is open to the public daily and was created thanks to private donations of money, materials, and time; it is a special place to contemplate and remember.
Saban Theater
Dating back to 1930, the Saban Theater (8440 Wilshire Boulevard) is formerly known as the Fox Wilshire Theater. This theater, which is built in the Art Deco style and has very beautiful interiors that can accommodate more than 1,800 spectators, was officially declared a historic building in 2012. The schedule of events is packed and diverse. Attending a show is a great experience that we recommend to those visiting Beverly Hills. Tickets can also be purchased online.
Museum of Radio and Television
Museum of Television and Radio ( 465 N. Beverly Drive) through its collection of about 80,000 television and radio programs, it tells the story of the two media. You can watch and listen to past and current shows, music, sports, and events.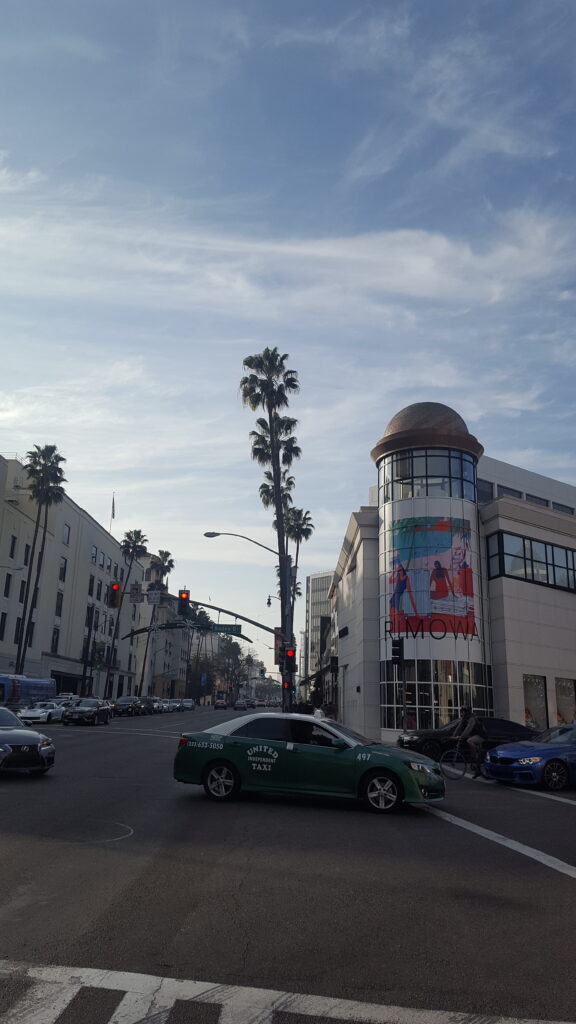 Beverly Hills Parks
Beverly Gardens Park
At 9990 Santa Monica Boulevard, a large crescent-shaped sign with the inscription Beverly Hills above a fountain with water lilies will let you know that you have arrived at Beverly Gardens Park. Inside this park that stretches for more than 2 miles, you can walk among paths admiring cacti and roses.
Also in Beverly Gardens Park, on the corner of Santa Monica Blvd and Wilshire Blvd, there is the Electric Fountain, a unique fountain with a 20-foot high column raising up a statue of a Native American of a local tribe kneeling in prayer. The fountain, which was built in 1931, creates a very special effect at night because it is illuminated by a succession of colored lights. The Beverly Hills Art Show takes place in this park on the third weekend in May and October. It is a free outdoor event featuring 240 artists from all over the country who showcase their paintings, sculptures, photography, ceramics, jewelry, prints, and drawings. During the event, you can order food and drinks at food trucks. The event is pet-friendly.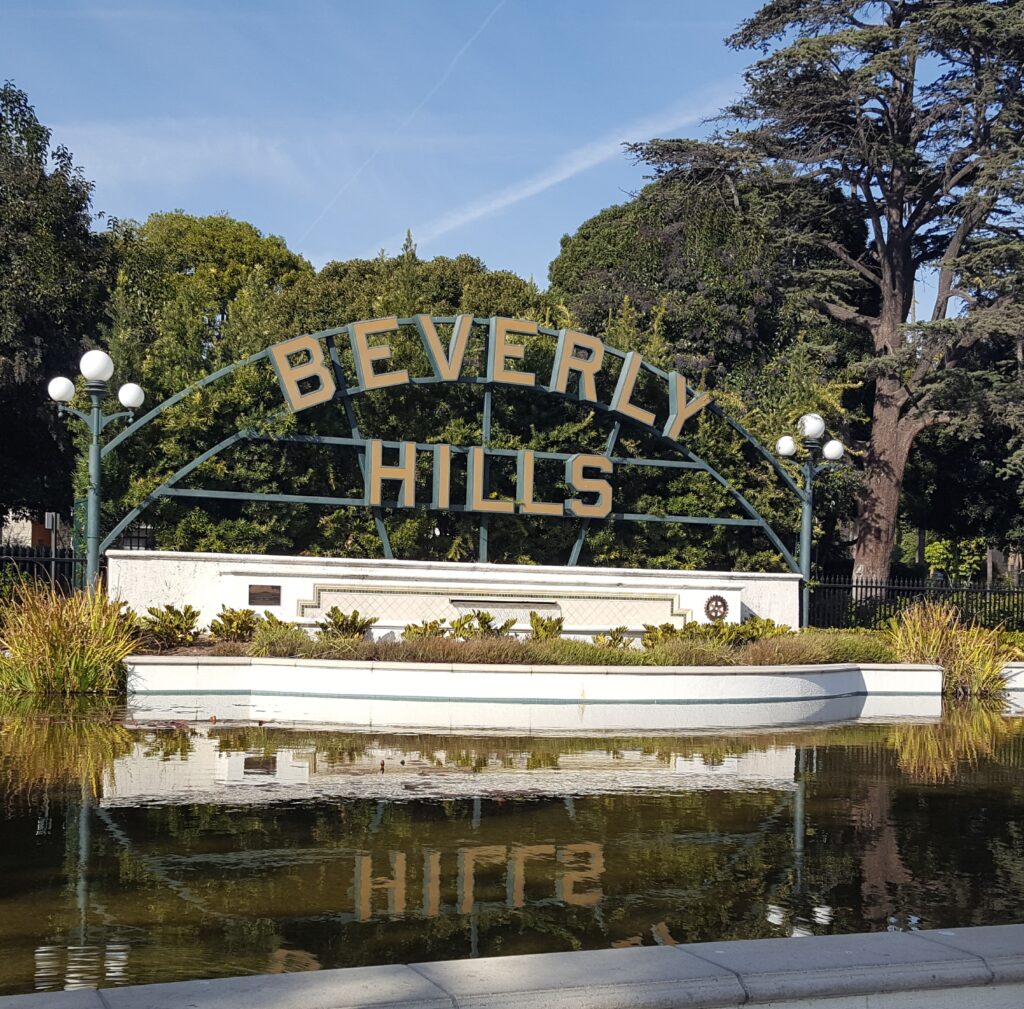 Cienega Park
Cienega Park (8400 Gregory Way) is considered the "crown jewel" of Beverly Hills. Here people can play sports, and children can have fun in the playground. There are grill stations, picnic tables, and a snack bar. Special events are held in the Community Center of the park. Nearby, at the Tennis Center (325 S. La Cienega Blvd), there is convenient 2-hour free parking.
Beverly Canon Gardens
Beverly Canon Gardens (241 N. Canon Dr) is a lovely oasis enriched with fountains, arcades, gardens, many walkways, and pleasant outdoor areas where you can eat.