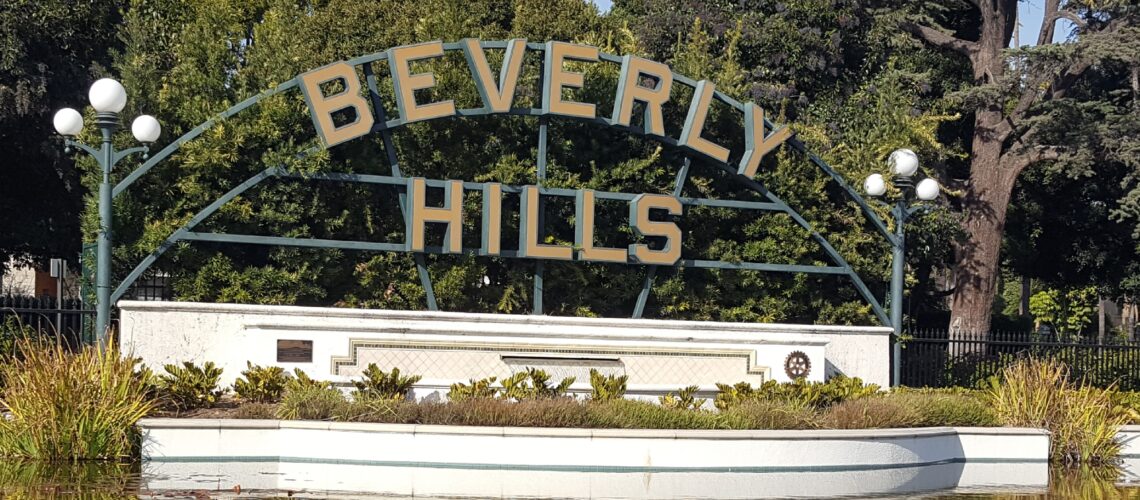 California small towns – Beverly Hills, part 3: tips, food and accommodations
In the Los Angeles area, the residents of Beverly Hills can have a certain standard of living while staying close to their activities and also have a place to retreat to away from the chaos and frenzy of the city. And many do. After visiting Beverly Hills, we now know something more than the so-called "golden world" of America.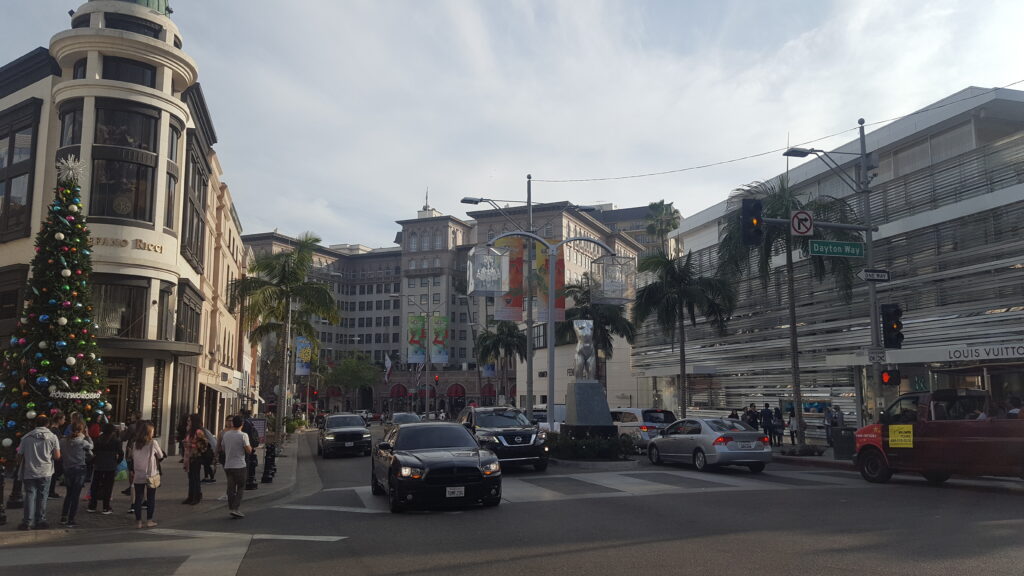 Where to Eat in Beverly Hills
Wilshire Boulevard
Caulfield's Bar & Dining Room (9360 Wilshire Blvd) at the Sixty Hotel, is a contemporary American cuisine blends with European influences at breakfast, lunch, and dinner. There is a vintage bar and a rooftop bar.
Bombay Palace (8690 Wilshire Blvd) is a place where since 1985, customers have enjoyed authentic North Indian cuisine. The restaurant's style is a mix of modern and Indian interior design, and there are two large windows overlooking the street.
Ruby Room (8560 Wilshire Blvd) is an informal place where customers can enjoy Persian and Mediterranean cuisine with an option to eat on the patio. The restaurant also offers take-out and delivery service.
Shanghai Grill (9383 Wilshire Blvd) serves good Chinese cuisine and interprets classic dishes in a modern way. This restaurant also offers take-out and delivery service.
Subway (9673 Wilshire Blvd) where, as usual, everyone can personalize and create their own sandwich starting from the bread, continuing with the fillings, and finally the sauces.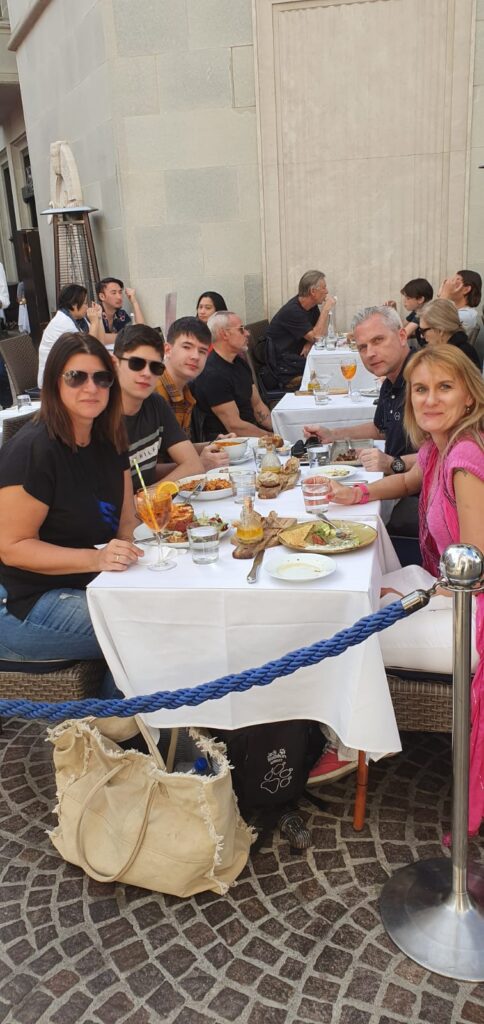 Cienega Boulevard
North of Wilshire Boulevard, Cienega Boulevard is known as "Restaurant Row" due to the presence of several restaurants. We recommend four restaurants that serve ethnic cuisine and could make it worth it to take a detour here.
The Fogo de Chao Restaurant (133 N. La Cienega Blvd), which serves traditional South Brazilian churrasco, has been described by Zagat (a restaurant guide in the United States) as the best restaurant in Los Angeles for South American cuisine. Here you can eat all the meat you want, and the bar serves small dishes, wine, and cocktails. The first restaurant of this chain was opened in Porto Alegre in Brazil while its first location in the United States was opened in Dallas.
Genwa Restaurant (1700 La Cienega Blvd / 5115 Wilshire Blvd) is a place where you can enjoy Korean cuisine with dishes, soups, noodles, vegetables, and fish. The special feature of this restaurant is the flame-free grill located at every table where customers can cook their meat.
Spice Affair (50 N.La Cienega Blvd) offers contemporary California and traditional Indian dishes with a spicy touch. The menu also includes dishes that vegans, vegetarians, and celiacs can enjoy. Customers will certainly have fun at the Happy Hour at the bar & lounge from 5:00 pm to 8:00 pm. In the award-winning restaurant, which has won prizes for its cuisine, VIPs have been spotted, something that the owners are certainly happy about. The restaurant is located in front of a fountain, so it's impossible to miss it.
Newport Seafood (50 N.La Cienega Blvd) is a restaurant chain in California, serves Southeast Asian food from China, Cambodia, Vietnam, and Thailand. The restaurant, which blends Asian and modern influences, is renowned for its lobster dishes.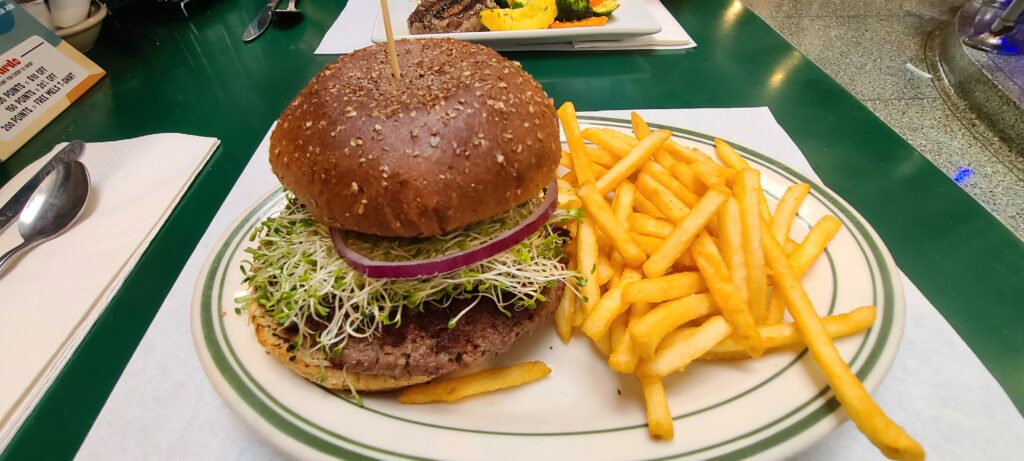 Where to Stay in Beverly Hills
Staying overnight in Beverly Hills at an affordable price is not an impossible feat, thanks in part to the search engines where you can look at all the options. We will recommend some accommodations according to the various needs and occasions.
Mayboune Beverly Hills (225 N. Canon Dr) a luxury number 1 hotel in the Los Angeles area according to readers of Conde Nast Traveler. As soon as you enter the large garden facing the entrance, you will notice a beautiful fountain. The hotel has a spa and a restaurant with a rooftop pool. The rooms and suites are very refined and elegant.
The Beverly Hills Hotels (9641 Sunset Blvd), nicknamed Pink Palace for the rosy color of its walls, is a hotel frequented by Hollywood stars. The luxurious rooms, suites, and cottages are surrounded by four hectares of beautiful gardens and exotic flowers. The accommodations feature a patio with a private garden, kitchen, fireplace, and balcony overlooking Beverly Hills and palm-lined streets.
Guests can access the spa and a special swimming pool with music playing movie melodies in the background underwater. The Cabana Cafe, located by the pool, serves fast food from 9:00 am to 6:00 pm in a casual-chic atmosphere, while at the Polo Lounge, guests will be entertained by piano music during lunch and dinner. In summer, guests can listen to jazz on the patio.
The Beverly Terrace (469 N. Doheny Dr) is a boutique hotel located in a vibrant neighborhood near Sunset Boulevard and Rodeo Drive. The 39 rooms are located around the garden. The property features classic mid-century style in a cozy and relaxed European setting. If you are looking for a hotel in the heart of Beverly Hills, we recommend The Crescent (403 N. Crescent Dr). The rooms have modern furniture and each has its own style. Prices vary depending on the room. You can taste the California cuisine in the restaurant with a rooftop bar.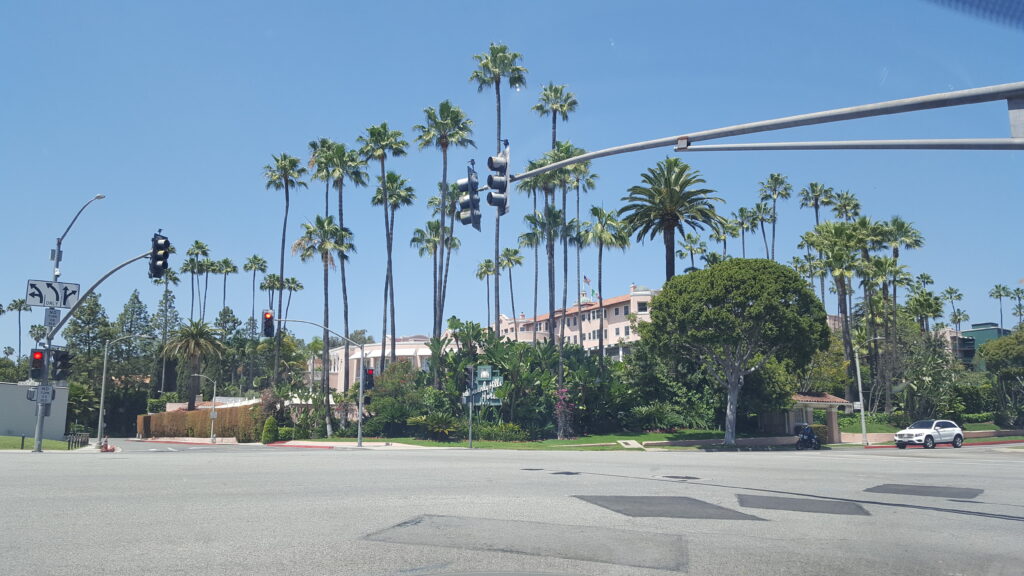 Near Beverly Hills, we have a couple of totally different types of accommodations to recommend. If you are looking for an alternative to the classic hotel, depending on your needs, you may find this option interesting.
Orange Drive Hostel (1764 N. Orange Dr – Hollywood) has excellent ratings compared to other hostels in the area. It is located in a residence built in 1790 near the Chinese Theatre and the Walk of Fame and displays the style of historic Hollywood. It has free wi-fi, a laundry room, a shared bathroom, and a fully equipped kitchen. There are different room options, and the cost of the rooms ranges between $42 and $108. Parking costs $10 per night.
The Beverly Hills Conference and Visitor Bureau (239 S. Beverly Dr) is a good resource where visitors can find more information about the city.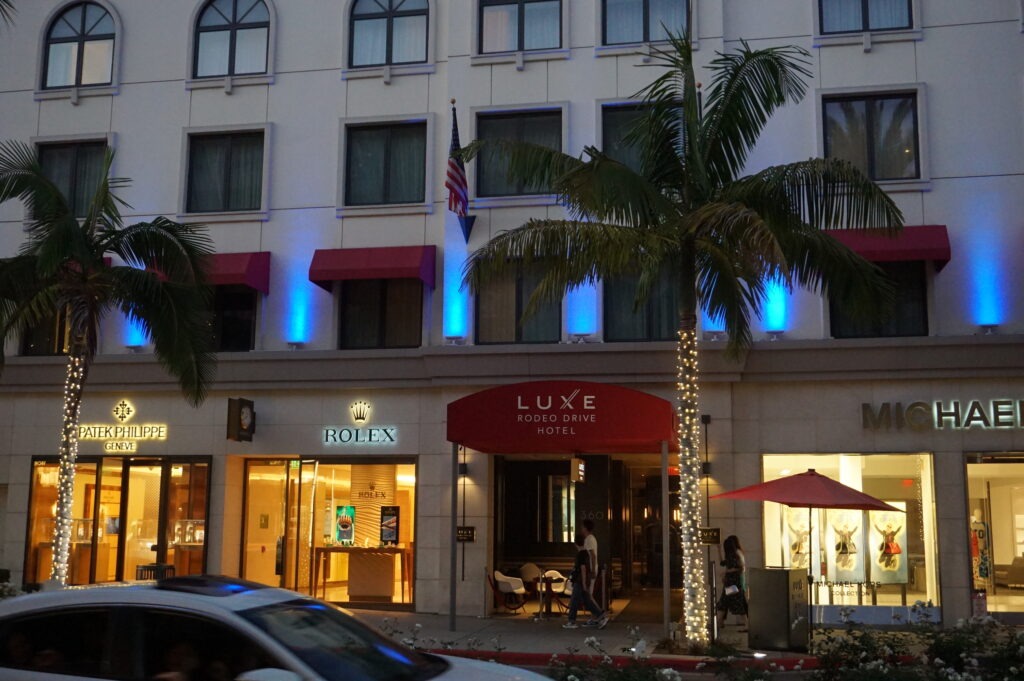 Beverly Hills Directions: Getting Around the City
Beverly Hills can be reached via the Los Angeles International Airport, 1 World Way. Once you arrive in Beverly Hills, you can look into going on a trolley tour. Excluding Mondays and public holidays, the service is free and operates between the Civic Center (at the corner of the Civic Center on 3rd Street every hour starting at 11:00 am and the last departure is at 5:00 pm) and Rodeo Drive (the trolley stops at the corner of Rodeo Dr. and Dayton Way, adjacent to Two Rodeo, every half hour starting at 11:30 am and the last departure is at 5:30 pm). On Sundays, the trolley departs from the courthouse (9355 Burton Way), since the street where the Civic Center is located is closed.
You can also choose a bike tour, which you may enjoy if you are athletic. The bikes are solid, heavy, very reliable, and are an unmistakable green, in order to be in harmony with the majority of the environment.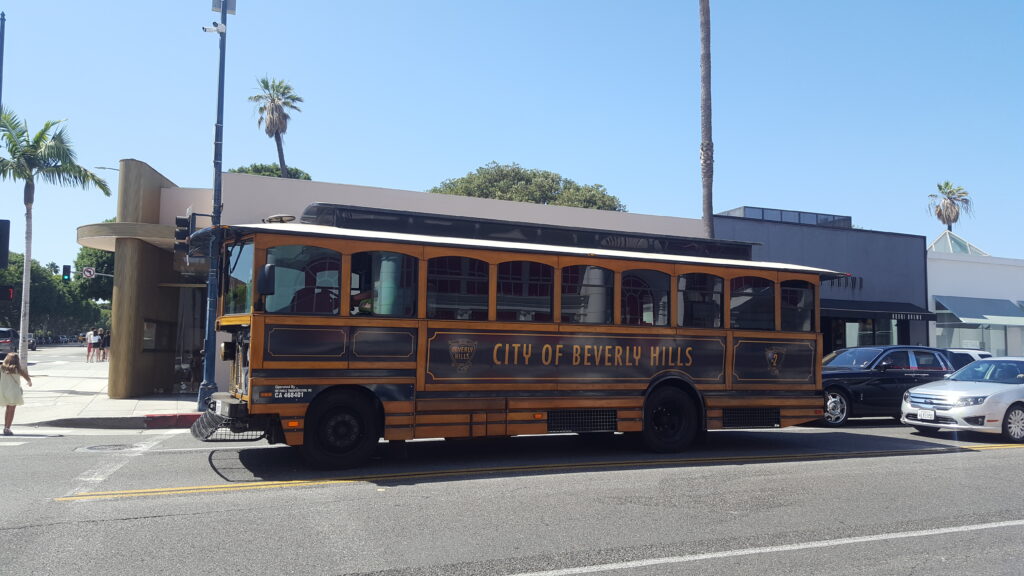 Parking Tips
Those with a car can take advantage of the 2-hour free parking at the Beverly Hills Parking Facility (461 N. Bedford Dr) and Beverly South Public Parking (216 S. Beverly Blvd.).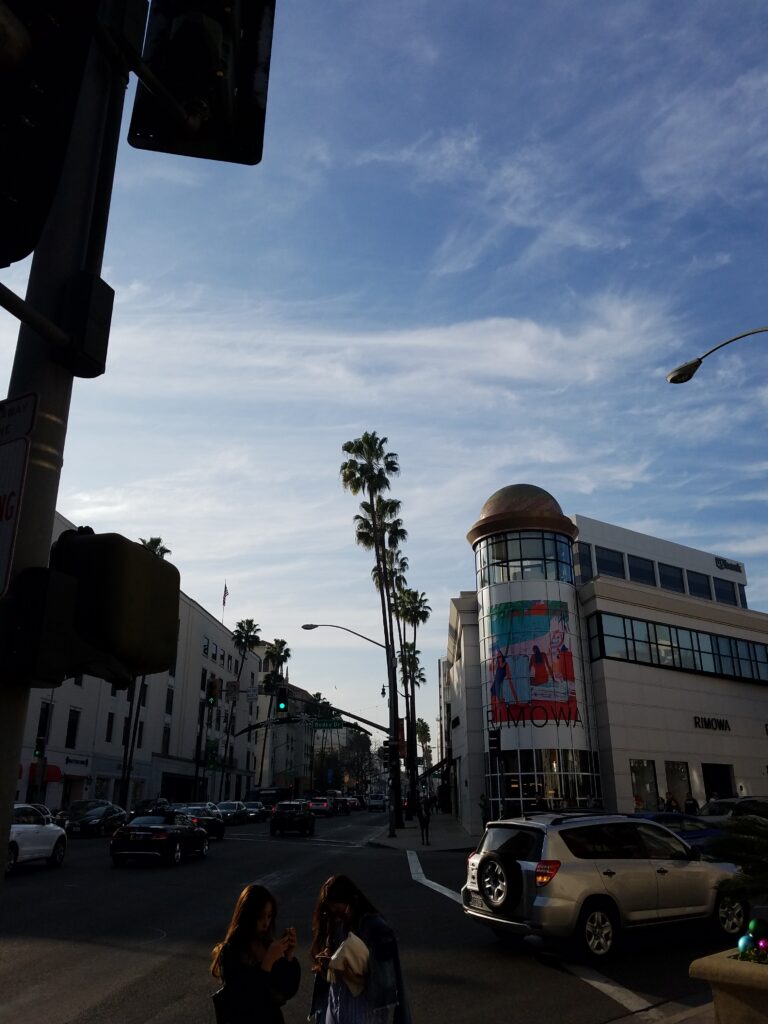 What to do near Beverly Hills
About 30 minutes from Beverly Hills, along U.S. 101 West, you can take a walk in Woodland Hills, a residential area of Los Angeles County in the Santa Monica Mountains. Mulholland Drive cuts through Woodland Hills and on this street you can enjoy spectacular views of the San Fernando Valley, the famous "Hollywood" sign on the hill, and a panoramic view of Los Angeles. This is the perfect place to take great pictures.