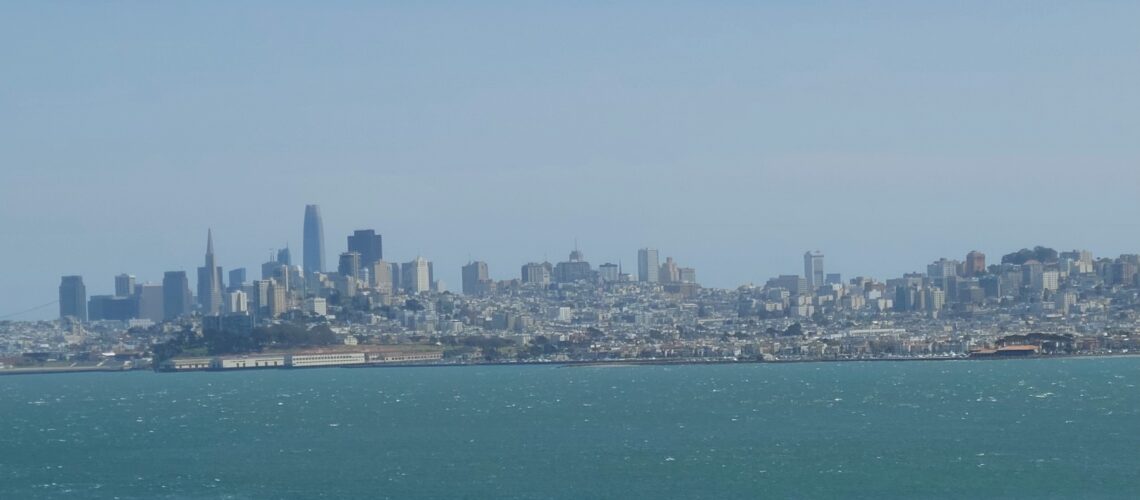 Where to stay in San Francisco: recommended neighborhoods and areas
When choosing the area where to stay in San Francisco, two main factors to be considered are the safety of the area and public transportation to the main city attractions.
Below you can find my selection of some recommended accommodations and some useful tips to save money, since in San Francisco, prices are not cheap (it's difficult to pay below $ 120-145 per night).
Best neighborhoods to stay in San Francisco: Fisherman's Wharf, Ferry Building, and Union Square
Fisherman's Wharf
For those who want to have fun in San Francisco, Fisherman's Wharf is the place to be. It is a dock for fishing boats (with its famous Pier 39), and those who want to be within walking distance of all kinds of shops, restaurants, and bars should look for accommodations here. Sleeping here allows you to be constantly in touch with the lively and festive side of San Francisco.
If you choose to stay in this area, you'll be able to spot the many sea lions that rest on the pier, you'll be close to where you can board a boat to visit Alcatraz Island, and you'll easily find good fresh fish and the best Italian restaurants in North Beach will be in the vicinity. It is also one of the best spots close to the famous Golden Gate Bridge, and no visit to San Francisco is complete without seeing the bridge.
Recommended accommodations:
Argonaut Hotel: Besides reminding you of the myth of the Golden Fleece, here you really enter a high-class sea-world. The maritime furniture is all blue and white and luxurious. The rooms and the restaurant have everything you need to make you feel at ease.
The Wharf Inn: In addition to the price, a little below San Francisco's typically high prices, the highlight of this motel is its location just off Pier 39. Also, parking is included in the price.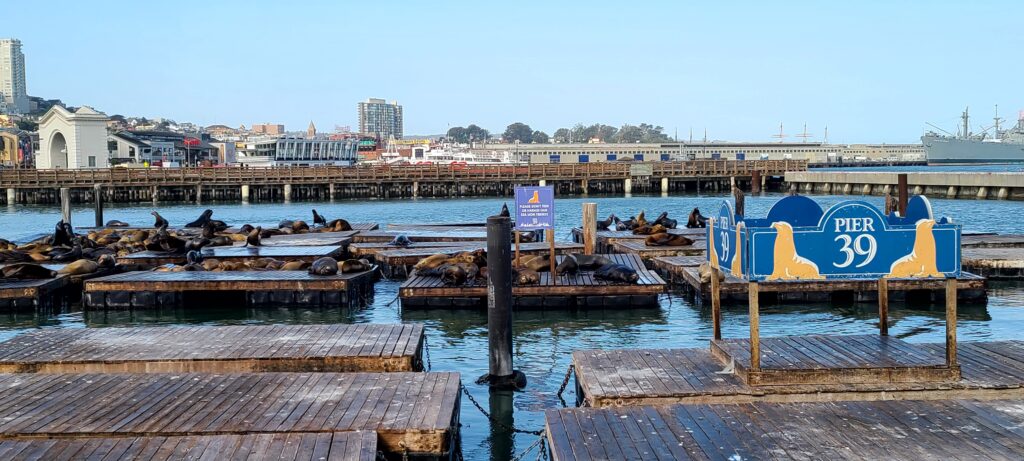 Ferry Building
A great area to stay in San Francisco is the area near the Ferry Building. Here is the Ferry Plaza Farmers Market, where you can find a variety of booths and choose whatever you like for breakfast. Once you step out of the building, go and admire a breathtaking view of the ocean and enjoy your breakfast in a welcoming atmosphere. Its unique geographical location makes this area very pleasant not only for an overnight stay, but also to take a nice walk along the promenade to admire the bay.
Recommended accommodations:
Hyatt Regency San Francisco: This luxury hotel maintains very high standards and is conveniently located near the Ferry Building. The rooms have a view of the bay and are equipped with everything you need.
Hotel Griffon: This hotel may have fewer stars, but it is more affordable. It is located in Embarcadero, a short walk from the Ferry Building. The hotel is traditional and has small and functional rooms.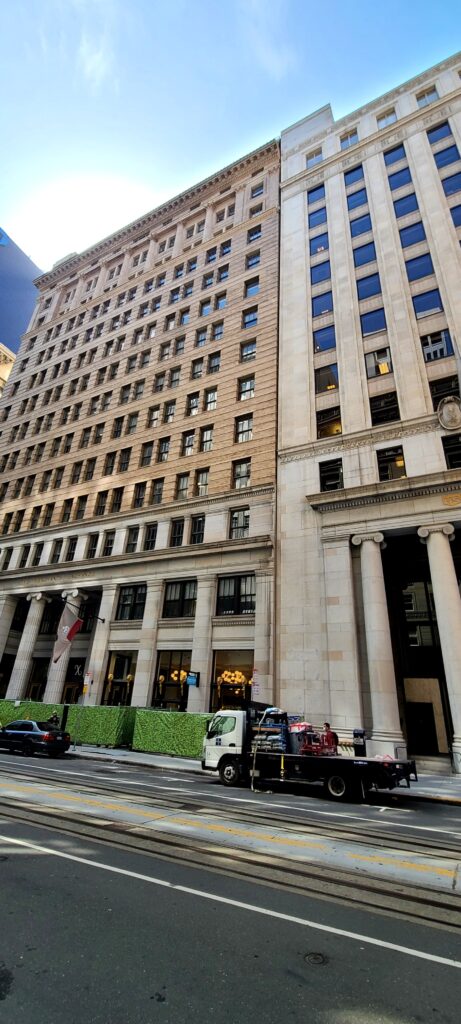 Union Square
Full of luxury hotels, shops, theaters, and beautiful monuments, Union Square is a great destination for those looking for a pleasant vacation. Here you will have access to many services and to transportation both to the airport (BART) and to the surrounding attractions (Muni and the characteristic Cable Car). It's very nice to walk around the neighborhood and if you have the possibility to stay overnight here in downtown San Francisco, you can easily reach the Financial District, where you can admire the Transamerica Pyramid, a symbolic building that seems to evoke the best Blade Runner action movies.
Recommended accommodations:
Park Central San Francisco: First the location. It is close to all the attractions of downtown San Francisco and to public transportation. Secondly, you can enjoy incredible views of the Financial District from the large windows of the rooms. Lastly, it has a beautiful lobby and modern public lounges.
Grant Hotel: The hotel may appear a bit dated, but it is excellent for its central location. The rooms are comfortable and clean. Breakfast is included. The price is right given that it is in downtown San Francisco.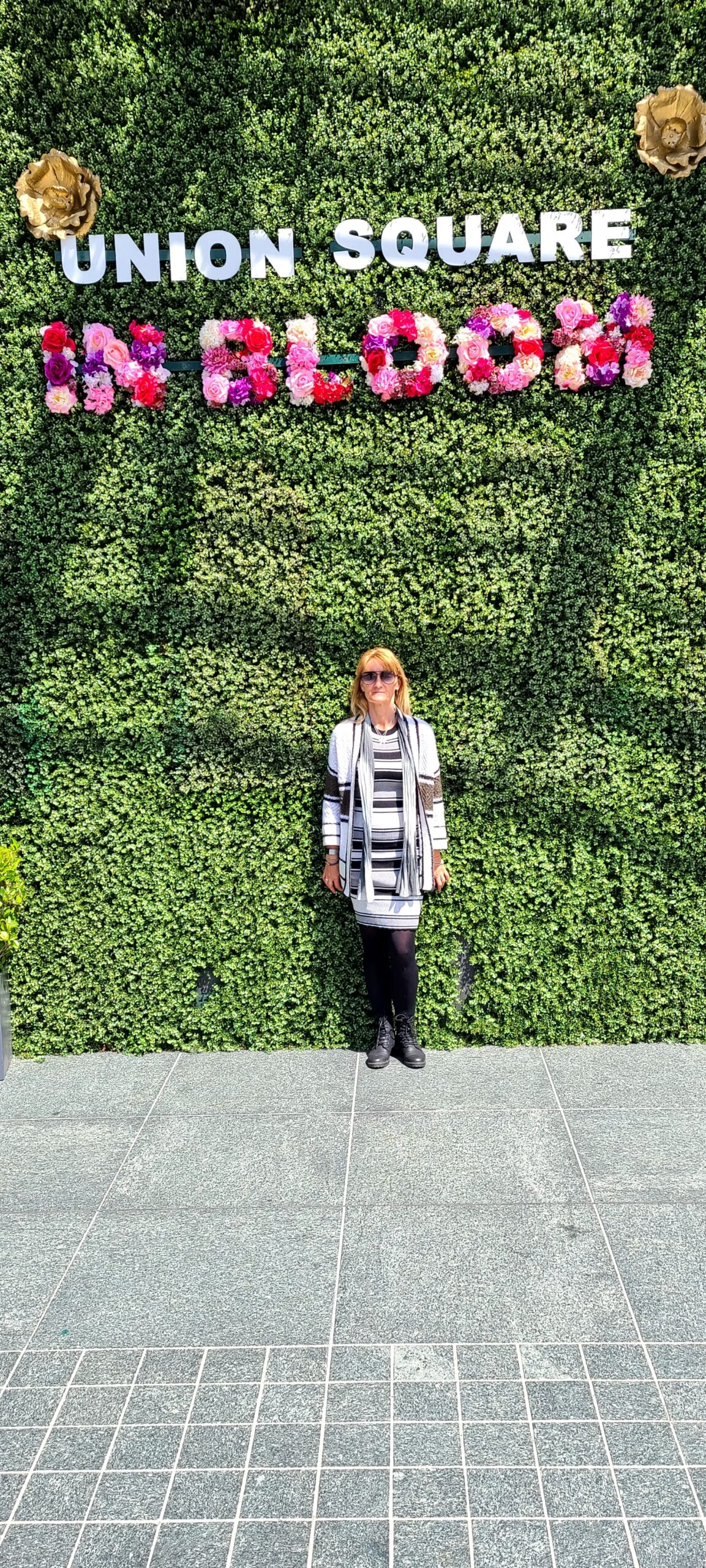 Cheaper neighborhoods: Chinatown, Cow Hollow, and the Marina District
Chinatown
Finding yourself in front of the Dragon Gate within 5 minutes from your departure from Union Square can be a bit of a strange experience. Chinatown is not just San Francisco's Asian neighborhood; rather, it is a world unto itself. You will notice this by walking down Grant Avenue or taking a dip in the colorful Waverly Place. The street is lined with buildings with oriental architecture, Taoist and Buddhist temples, stores, shops, oriental restaurants, and cultural centers where you can learn more about Chinese culture, with a special focus on its integration in San Francisco.
There are 3 important advantages:
Location – Chinatown is strategically located for visiting central areas of San Francisco on foot. Union Square and the Financial District are a 5-10 minute walk away, while the Ferry Building, Fisherman's Wharf and Pier 33 are just over twenty minutes away walking.
Security – the neighborhood is quiet both day and night.
Affordability – especially on weekends, Chinatown hotel prices tend to be a little lower than in other central districts of the city.
Recommended accommodations:
Omni San Francisco: This is a high-class facility with elegant accommodations and refined luxury. The hotel is located close by on California Street, a quiet "American" street a stone's throw from the colorful streets of Chinatown.
SW Hotel: On the northern edge of the neighborhood, not far from Embarcadero, there is the SW Hotel. If you like the Beat Generation, you may be interested to know that you are not far from the famous City Light Bookstore. On the weekends in December, you spend just over $120 per night, breakfast included.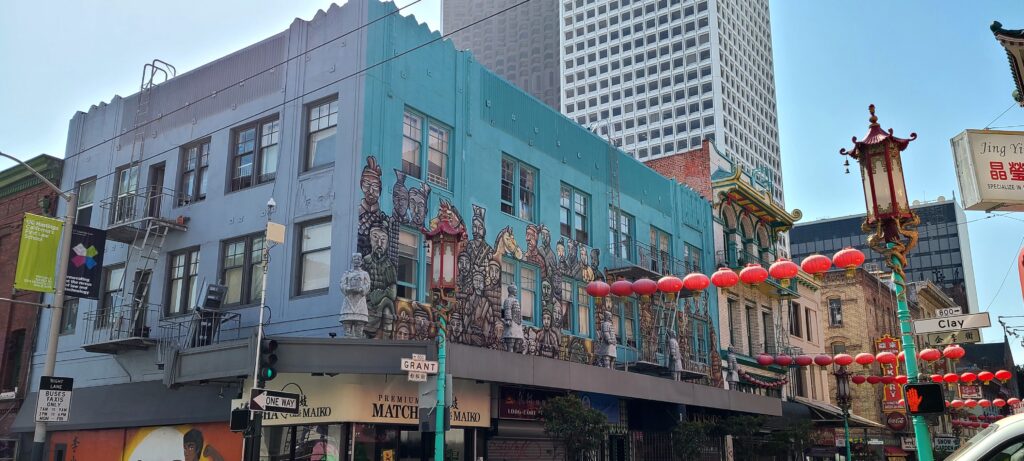 Marina District and Cow Hollow: Motels in San Francisco
Not all of Lombard Street is flowers and bends. The street stretches east to Telegraph Hill, west towards the Presidium. On this last stretch of road there are some motels that are suitable for those who want to stay in a residential area of San Francisco and perhaps save money and take advantage of free parking. Lombard Street marks the border between two small, quiet neighborhoods: Cow Hollow and Marina District.
The name Cow Hollow comes from the fact that this area was used for breeding. In this neighborhood, which is now residential, there are some very interesting shops and boutiques on Union Street.
If you were to walk from Lombard Street towards the bay, you will find the Marina District that has various points of interest, such as the houses in Mediterranean revival style, the pleasant walks on Marina Green, the views over the bay of Alcatraz and the Golden Gate Bridge, the bizarre Wave Organ, and the grand Palace of Fine Arts that was built on the occasion of the 1915 Expo.
Recommended accommodations:
Lombard Plaza Motel: Lombard Plaza Motel offers all the amenities you could ask for, including free parking, which is very rare.
Town House Motel: During my research, I found very few accommodations that go below $110 per night in San Francisco (weekdays). One of these is the Town House Motel. Breakfast and free parking are included in the price.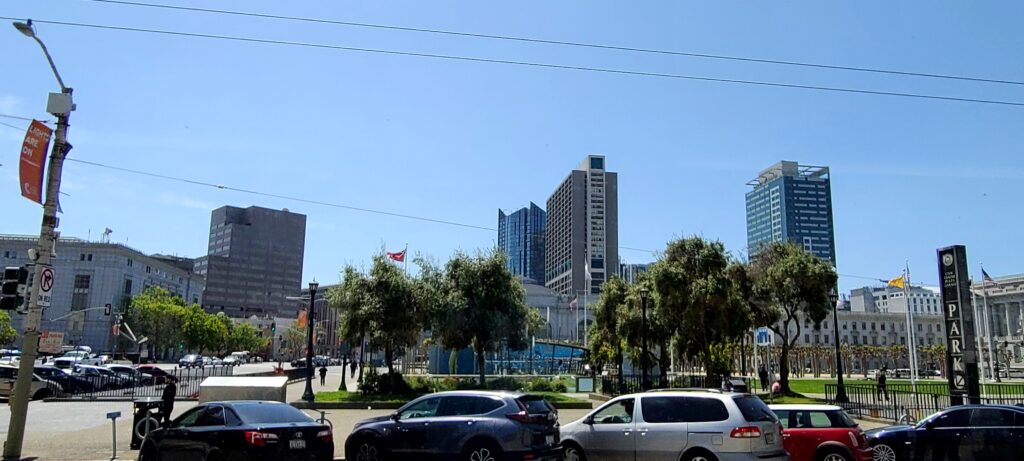 Best residential neighborhoods: Lombard Street, Nob Hill, and Pacific Heights
These neighborhoods are a little further away from Downtown, but they are well connected to the downtown area by public transportation and include parks, viewpoints, and incredible buildings.
Lombard Street
If someone asked us about the attractions in San Francisco, Lombard Street would certainly be in the top 10. Being one of the most scenic spots in the whole city, sleeping in the Lombard Street area is definitely a great choice for those who want to enjoy a unique vacation.
Recommended accommodations:
Marriott Vacation Club Pulse: it has beautiful modern and original rooms. This hotel is close to Lombard Street, a cable car stop, and Fisherman's Wharf.
San Remo Hotel: You will find the San Remo Hotel after taking a short 10-minute walk from Lombard St. It will be incredible to stay in a hotel with a vaguely retro Italian style. Located in a quiet and central area, the San Remo Hotel is perfect for those who love to stay in a hotel where time stands still.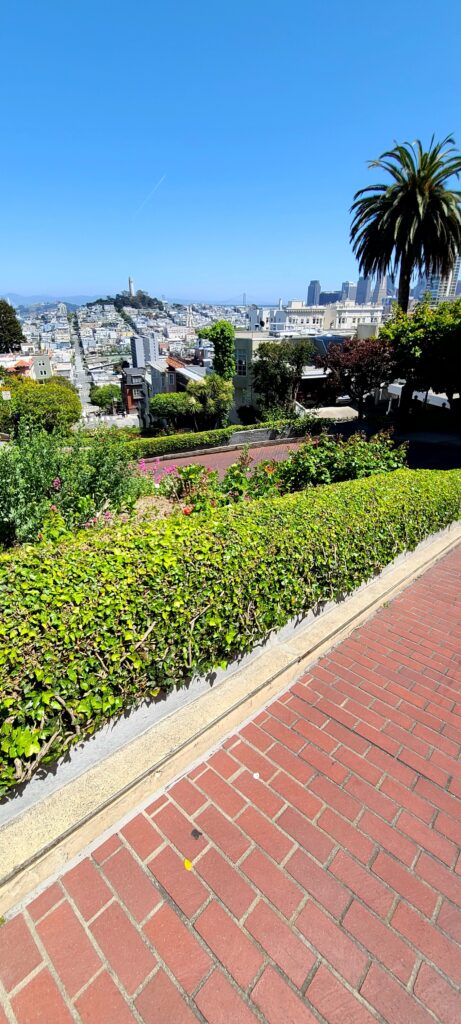 Nob Hill
This is definitely one of the most beautiful neighborhoods of San Francisco with Victorian houses and a hillside location, which allows you to enjoy a nice view. There aren't many hotels in this area, but if you manage to snatch one, you can say you slept in one of the most exclusive and chic areas of San Francisco. There are many classy restaurants and you would be fairly close to other attractions (a 15-minute walk from Lombard Street and a 20-minute walk from Union Square). To get to Fisherman's Wharf and the Ferry Building, you should take public transportation (the historic cable cars run right through the center of Nob Hill and connect to other lines to downtown, Chinatown, the pier, and other areas).
Recommended accommodations:
Stanford Court San Francisco: Well connected to the rest of the city by cable cars, the Stanford Court (4 stars) offers impeccable service and you will enjoy great views of the bay from your room.
Cable Car Hotel: This is definitely a low-cost solution, so you can't expect the comfort of fancier hotels in the area.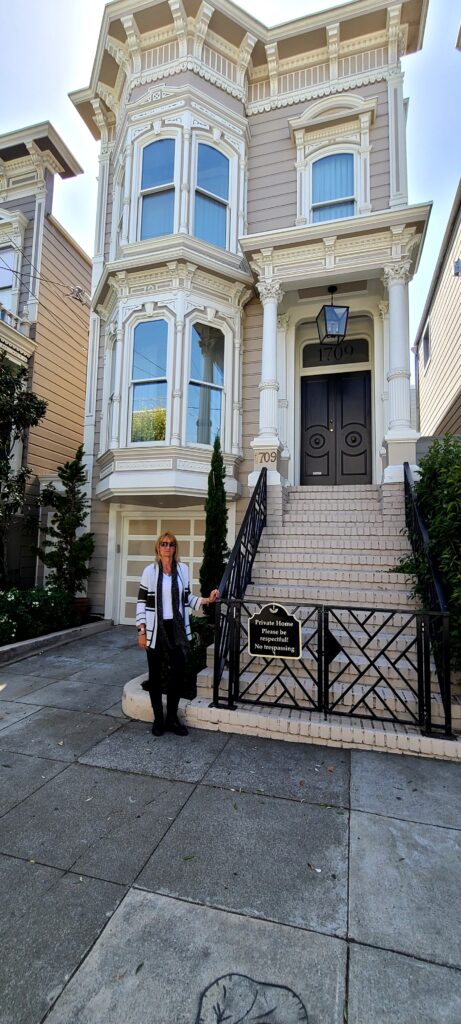 Pacific Heights
Pacific Heights is known as the most exclusive neighborhood in San Francisco. The Victorian mansions, Baroque mansions, Italian-style villas, and lush gardens make Pacific Heights the most opulent and elitist area of the city. If you've decided to spend the night here, take the opportunity to explore the neighborhood a little bit by dining at one of the restaurants on Fillmore Street or by enjoying the view at the top of Lyon Street Steps and from the heights of Alta Plaza Park.
Recommended accommodations:
Laurel Inn: A refined boutique hotel that stands out for its good location. Although it is located on the edge of the neighborhood, you can easily reach downtown San Francisco by bus. There is a bus stop is right in front of the hotel.
Hotel Drisco: In addition to the charming location near the best green parks and the most beautiful streets of the neighborhood, I must mention its deluxe services that are well above average in San Francisco.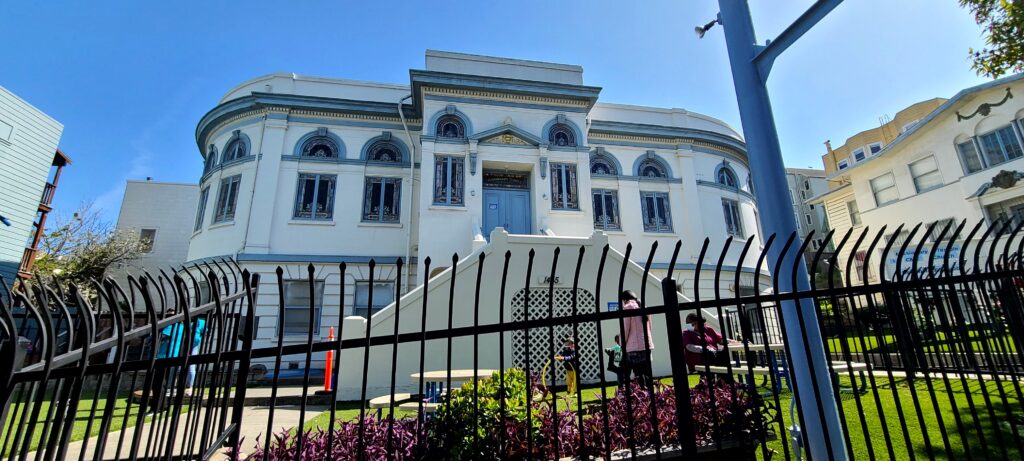 Ethnic and unique neighborhoods: Castro, the Mission District, and Haight-Ashbury
The Mission District and Castro
These two neighborhoods are adjacent to each other, but each has its own distinct vibe. While Castro is a parade of rainbow flags and a favorite destination of civil rights activists and LGBT organizations, the Mission District is the Latin quarter, scattered with historic murals (over 400) inspired largely by the work of artist Diego Rivera. Both neighborhoods boast several points of interest and a fair number of accommodations, although availability is obviously more limited than in the downtown area, so you need to search and book well in advance. As far as transportation is concerned, even if it is a little remote, the area has its advantages. It can be reached by the MUNI from the Ferry Building and the Financial District and with the BART directly from the airport.
However, from the point of view of security, we should warn you that the Mission District is generally not very safe. The safest area is the west side of the Mission District towards Castro, but I advise you not to go too far east. Locals also say you should look out while walking the streets around Valencia Street and Guerrero Street where there have been thefts and robberies.
Accommodations in the Mission District and Castro are less expensive than in downtown, but it must also be said that quality often goes hand in hand in terms of both service and cleanliness. I recommend that you look at the reviews carefully before booking a cheap hotel.
Recommended accommodations:
The Inn San Francisco: A beautiful historic Victorian bed & breakfast dating back to 1872 (one of the few buildings to survive the earthquake in 1906). It has elegant, well-furnished rooms and excellent public transportation to downtown San Francisco (it is near both the BART and the bus stop).
1906 Mission: A clean and quintessential B&B in the Mission District built with the utmost attention to the environment, with energy-efficient lighting, recycled materials, and organic products. What makes the difference is the proximity to the BART stop (only 2 minutes on foot), which means that in just 25 minutes you can arrive directly at the airport.
Parker Guest House: Located in Castro, these beautiful apartments are close to the Mission of St. Francis of Assisi and Mission Dolores Park. The MUNI stop is a short walk away, and there are many restaurants and snack bars.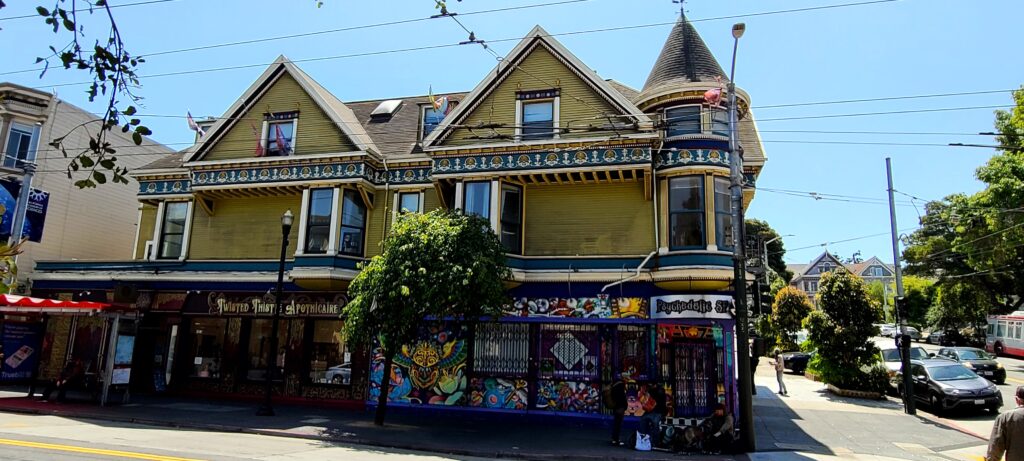 Haight-Ashbury
You can't finish an article on San Francisco's best neighborhoods without mentioning the eclectic Haight-Ashbury, which will delight those who love the 1960s era. While there is no shortage of things to do in Haight-Ashbury, it's also true that there aren't many accommodations. There are just a few B&Bs or apartments for rent in residential areas.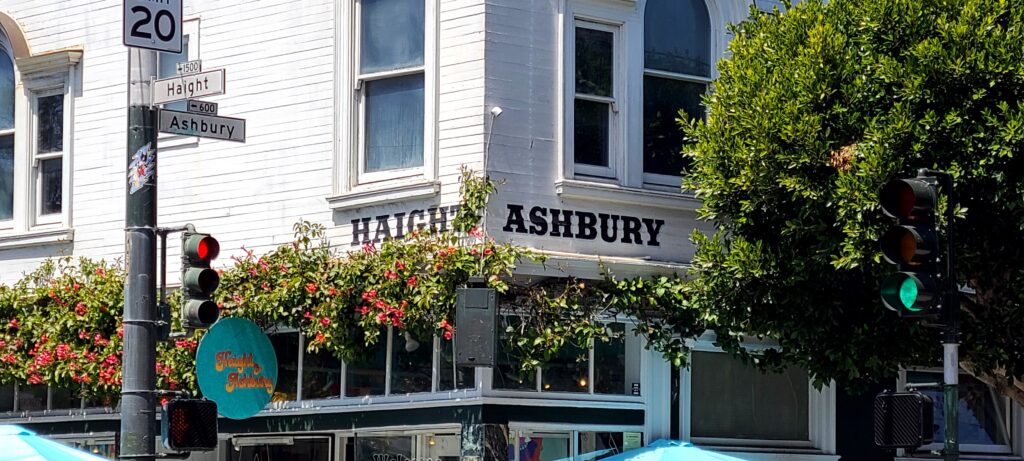 Cheap accommodations in San Francisco
The cost of rooms in San Francisco ranges from medium to high. Low-priced accommodations are also available, but the quality is very poor. In the areas farther from downtown, prices drop a bit, however, it is rather difficult to find satisfactory solutions below $120 per night, except for the motels on Lombard Street and some places on the edge of Chinatown.
If you want to stay in downtown San Francisco for a cheap price, the best choice is a hostel. There are excellent hostels and some rooms also have private bathrooms. Two solutions that I recommend you to evaluate are the HI San Francisco Downtown Hostel and Ansonia Hostel San Francisco. Those who are looking for a particular experience can fall back on the Pod Room O'Farrell St where you can sleep inside real space capsules. It is located close to Union Square.