Near San Francisco (about 40 minutes by car), you'll find the giant redwoods in Muir Woods National Monument, a park where you can admire the majestic giants found in California's wooded landscapes.
Muir Woods National Monument
This park, which covers 553 acres and has 6 miles of trails, was created on January 9, 1908, and on that day, President Theodore Roosevelt declared it a national monument. The name Muir was chosen in honor of Scottish-American John Muir, a naturalist, geologist, and environmental philosopher. Outside the café, there is a wooden statue depicting him that was carved in his memory.
Given the location of the park near the Pacific Ocean, at certain times of the day, the forest is covered by a layer of fog that causes humidity in the forest. This allows the plants to grow and benefit especially in dry periods. In this natural environment with rainy winters and dry summers, the average annual temperature is between 39 and 70 degrees. Therefore, it is possible to visit Muir Woods all year. It opens at 8:00 am and closes seasonally.
You should dedicate at least two or three hours to get a good idea of Muir Woods National Monument and enjoy what it has to offer. There is a fee to enter Muir Woods ($15 for everyone 16 years old and up), but we assure you that it's worth every penny. At the Visitor Center (1 Muir Woods Rd), in addition to asking for information and a map of the park, you can buy tickets, view exhibits, buy books, and shop. It is important to remember that the Visitor Center closes 30 minutes before the park does. There is also the Muir Woods Trading Post, a cafe & gift shop where you can buy souvenirs, food, and drinks as well as view permanent exhibits of historical photos.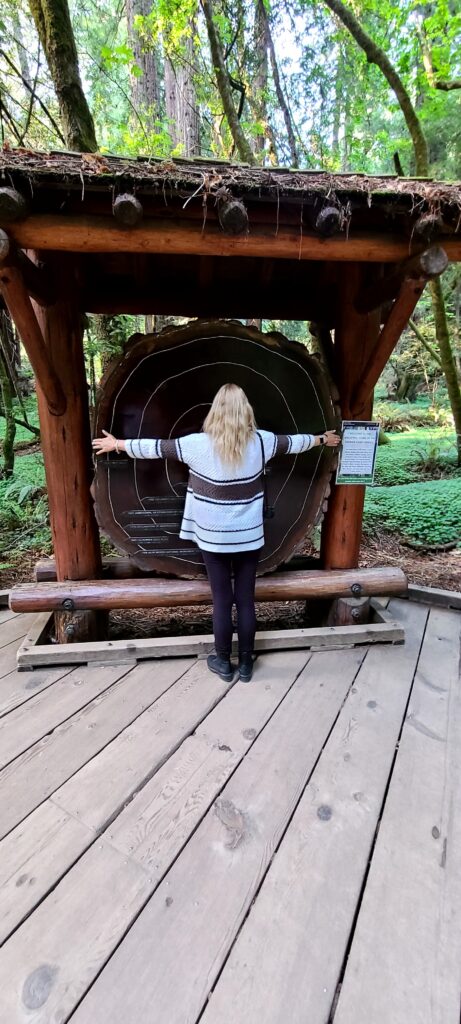 At various times of the day, there is the possibility to listen to rangers and volunteers tell stories, which last about fifteen minutes. Otherwise, you can opt for a group tour of one hour or a private tour. As soon as you pass through the park entrance, the adventure begins. The fenced trails indicate the path to follow and soon, as the forest thickens and you find taller peaks, the sunlight barely manages to pass through. As you walk, you may often find yourself looking up to take a picture or simply admire the glorious nature that surrounds you.
And when you see the giant redwoods, the most important specimens of their size, every hollow space in the tree trunks is an opportunity to get inside these magnificent trees. Along the trails, there are also wooden bridges and you will pass by Redwood Creek. Muir Woods is stupendous and you will be grateful that you get to experience the natural beauty here.
The "Coastal Redwoods", relatives of the giant sequoias that are also found in California but further east (not to mention the majestic beauty of Sequoia National Park), are not only found here but extend from Monterey County in California to the coast of Oregon further north. They can live on average from 500 to 800 years, even over 1,000-1,200 years, and they continue to grow during their lifetime. Redwoods are the tallest trees on earth; they can reach a height of 377 ft not counting the roots (in Muir Woods, the tallest redwood reaches 259 ft).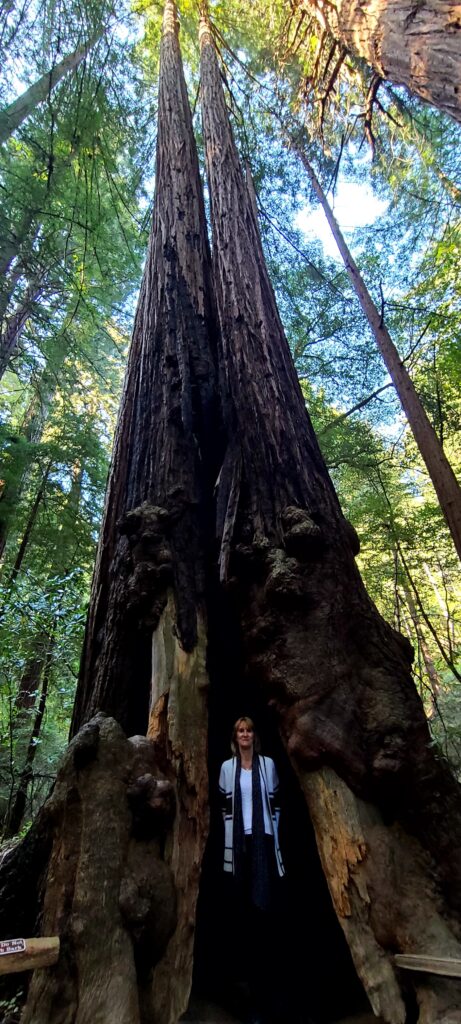 Muir Woods Cathedral Grove
In Muir Woods, you can also find California Bay laurels, large-leaved maples, ferns, tanoak trees (evergreen trees belonging to the beech family), and also mushrooms. In Cathedral Grove, there are the tallest redwoods in the park. On May 19, 1945, a noteworthy historical event took place here in Cathedral Grove. United Nations delegates who were holding a meeting in San Francisco at the time met here to hold a ceremony in memory of President Franklin Delano Roosevelt, one of the founders of the United Nations, who died on 12 April 1945.
They decided to honor President Roosevelt in Muir Woods not only because it is near San Francisco, but because of the knowledge, attention, and passion that Roosevelt had for trees and forests. He had worked hard to ensure that the United Nations took environmental conservation and the value of natural resources into account. In 1995, a commemorative plaque was placed in Cathedral Grove in his honor.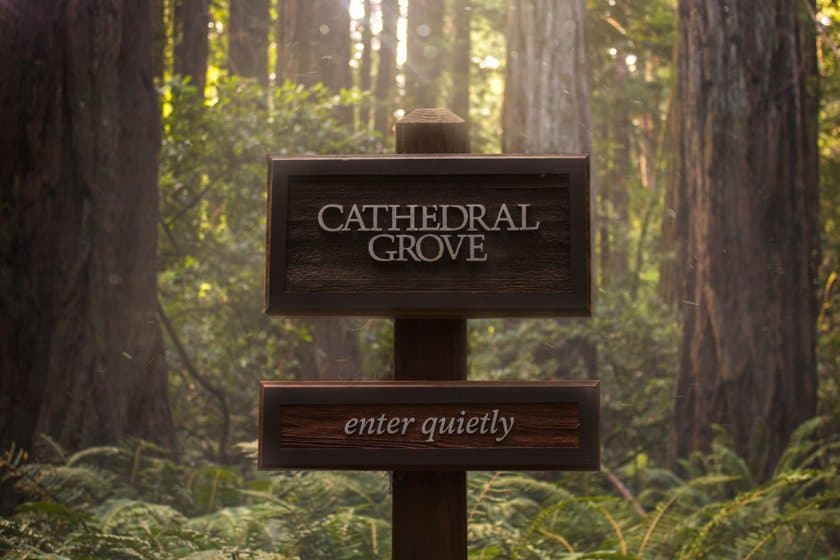 Muir Woods Fauna
Inside this forest, visitors will be surprised to see deer suddenly pass by. The deer usually do not seem at all disturbed by the presence of visitors. In addition, local wildlife enthusiasts or scholars can try to spot golden salmon, rainbow trout, spotted owls from the north, woodpeckers, deer, American moles (the smallest species of mole), grey squirrels from the west, striped squirrels from Sonoma, bats, and with a bit of luck, they might see the black bear. Although it's rare to see bears here now, rest assured that they are there and if you have the privilege to meet a bear… don't try to hug the bear. It will not be very friendly! Also, sea otters can be sighted in Redwood Creek.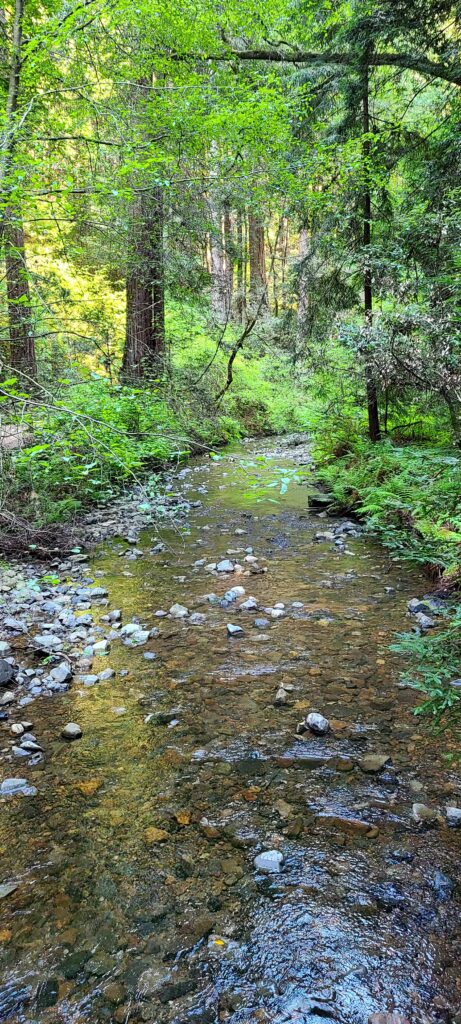 Information and Services
If you want to have a more complete experience of what the park offers, there are hiking trails with different levels of difficulty. Because of the incredible beauty of Muir Woods, visitors will not leave disappointed. There are several kid-friendly activities as well as environmental activities. Pets are not allowed inside Muir Woods National Monument, and additionally having picnics, camping, staying overnight, and smoking are all forbidden. There is no phone service in Muir Woods.
Services are available in the Golden Gate National Recreation Area. So, for those who wish to stay at a campsite, we suggest contacting the Pantoll Campground (801 Panoramic Hwy) that is adjacent to Mount Tamalpais State Park. There you will find a rustic, wooded environment with a pleasant view; it is the ideal place for lovers of nature, tranquility, and simplicity. If you love mountain biking, follow the marked trails and enjoy a nice and healthy ride. The map of the whole area that you receive together with the entrance ticket provides detailed information.
Starting January 1, 2018 it is mandatory to book in advance a parking space or a shuttle to enter the park! You can do so online or on the phone.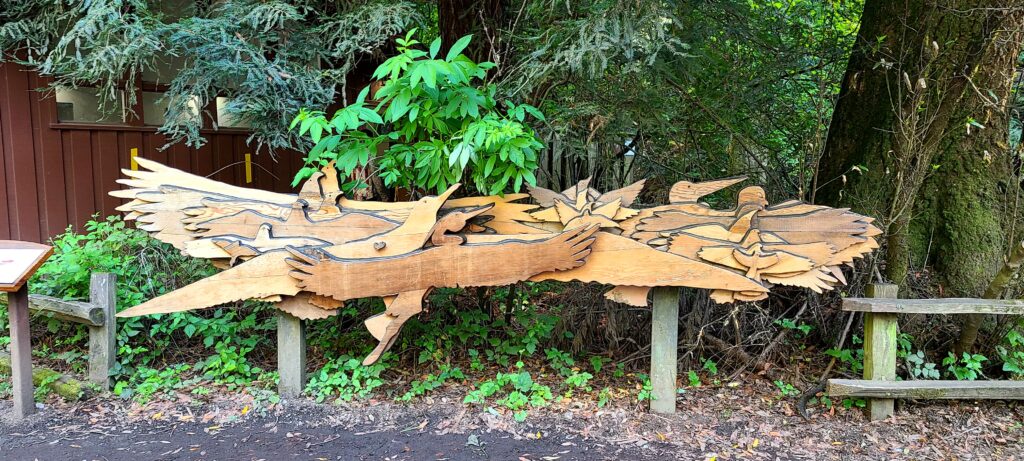 How to Get from San Francisco to Muir Woods
By car
The journey by car to Muir Woods is quite simple and short. It will take you about forty minutes (one way) and remember that there is a toll to cross the Golden Gate Bridge.
San Francisco to Muir Woods Bus
Muir Woods can also be reached by bus. Mill Valley is not far from lovely and popular locations such as Sausalito (12 minutes along E Blithedale Ave, US-101 S, and Bridgeway), San Francisco (30 minutes along US-101 S), Napa (52 minutes along US-101 and CA-121 N), and Sacramento (1 hour 32 minutes along S-101 N and CA-121 N).
Mill Valley is easily accessible from San Francisco International Airport.