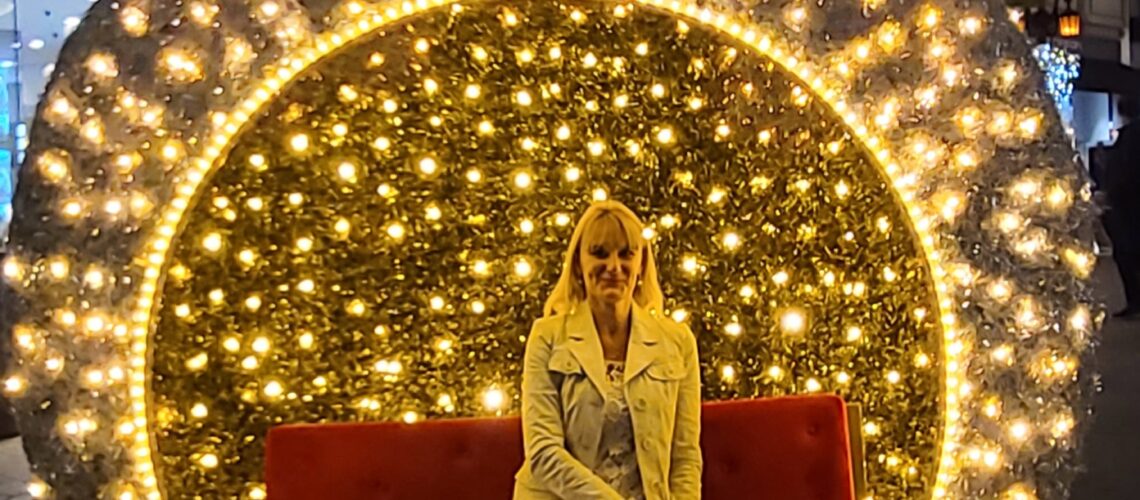 Where to see Christmas lights in Los Angeles and Orange County this year
You've probably heard this question before from out-of-town friends: how can we get in the holiday spirit here on the West Coast when it's warm in December? Well, first of all, it's cold—by L.A. standards, at least. But second, there's also plenty of holiday cheer if you know where to see Christmas lights in Los Angeles. In between Christmas events, festive movie screenings and shopping trips, take the time to check out twinkling neighborhoods and ticketed events. Just make sure to bring along an extra sweatshirt and some patience: not even Christmas lights can escape L.A. traffic.
Enchanted: Forest of Light
La Cañada Nov 20, 2022 – Jan 8, 2023
Descanso Gardens' light-up experience ditches the kitsch aesthetic typical at other venues in favor of a whimsical, wondrous, curiosity-driven display that's among L.A.'s most stunning and, more importantly, most fun. The interactive, nighttime program sets up illuminated installations around the botanical garden grounds, from luminescent forests to free-standing hands-on art pieces.
Christmas Tree Lane
While L.A. might lure in visitors with breezy palm trees, the region is no slouch when it comes to conifers. Case in point: This grand, mile-long driveway of cedars in Altadena becomes blanketed in lights each holiday as it transforms into Christmas Tree Lane. Take a majestic cruise down the hill after it lights up (the lighting ceremony usually takes place the second Saturday in December). And we do suggest going down: Traffic can get pretty gridlocked during peak holiday season, but it moves a bit better if you start at the top and head south (or just visit later in the evening, before the lights flick off at 10pm).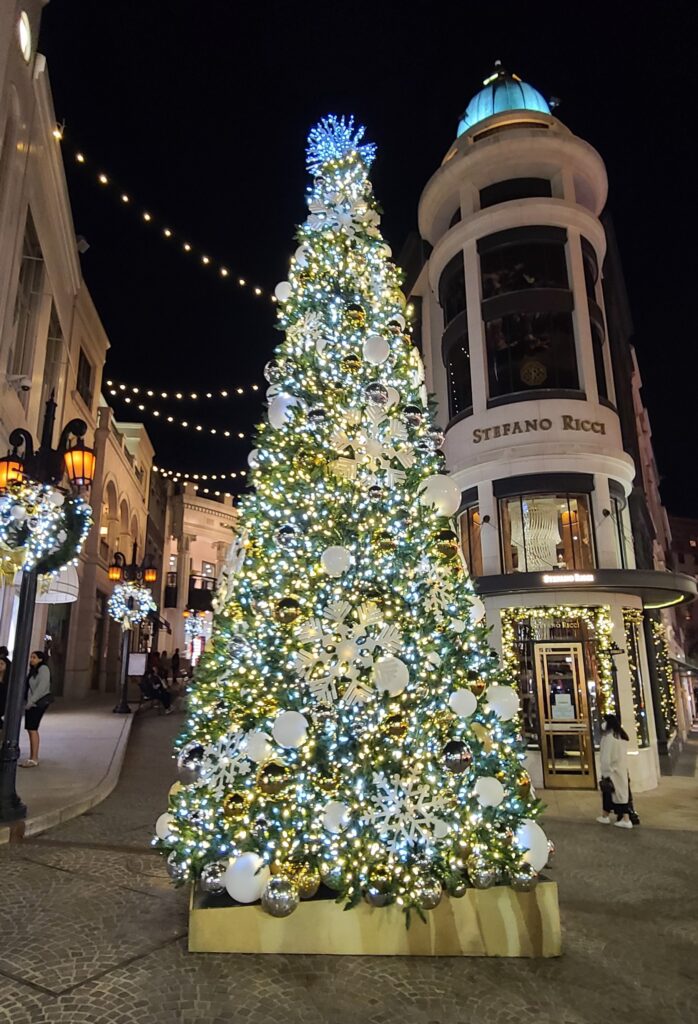 Marina Del Rey Boat Parade
Marina del Rey Dec 10, 2022
Feel as though you've escaped to a small-town fishing village during the Marina Del Rey Boat Parade—well, you know, minus the massive crowds. Bring a blanket and gather around Fisherman's Village or Burton Chace Park to watch as 70 boats glide through the marina with holiday lights and decorations in competition. Categories include Best Theme, Best Animation, Best Band, Best Lights and more. The festivities on December 11 begin at 5:55pm with fireworks, and the boat parade starts at 6pm, rain or shine.
L.A. Zoo Lights
Griffith Park Nov 18, 2022 – Jan 22, 2023
The on-foot successor to the old DWP Holiday Lights, many of the displays here are inspired by the zoo's wild residents (elephants, giraffes, koalas and condors, among them), and that appears to be the case even more so than before with the event's new "Animals Aglow" tagline. The zoo touts this year's event as a "reimagined" display that seems to lean in to oversized animal-shaped lanterns.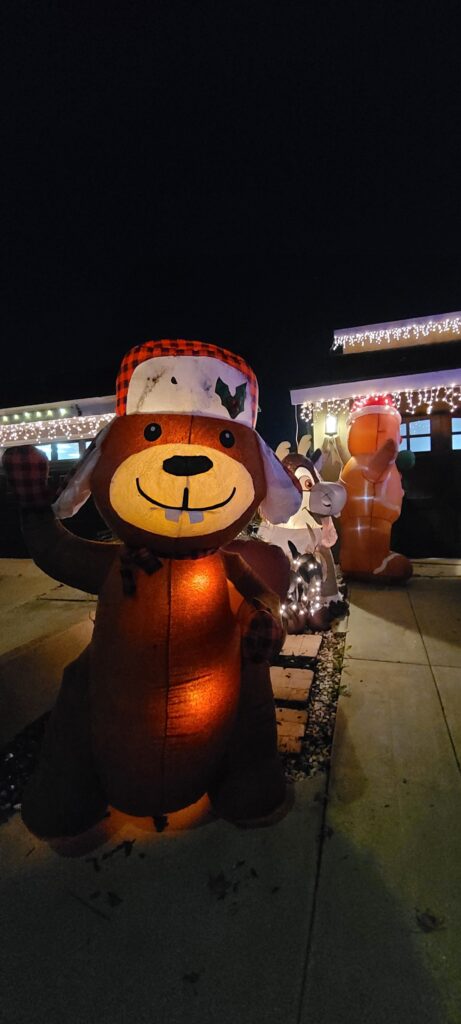 Sleepy Hollow Christmas Lights Extravaganza
Sometimes you simply want to see as many lights as possible, and Torrance's Seaside neighborhood (sometimes referred to as Sleepy Hollow) surely delivers. Follow the stream of brake lights overflowing from Robert Road for a trek through this visual overload. Starting in early December, seemingly every tree, house and lawn becomes blanketed in an electric bill-dizzying degree. The displays typically run every night from 6 to 10pm, up until New Year's. There's typically no parking on the street during those times, so you'll have to walk the few blocks (park on PCH, Calle Mayor or Prospect Avenue).

Festival of Lights at the Mission Inn
Inland Empire Nov 25, 2022 – Jan 6, 2023
Riverside's stunningly beautiful Mission Inn is bathed in 4.5 million twinkly lights during the annual Festival of Lights. The free six-week-long holiday tradition begins the day after Thanksgiving and typically features more than 400 animated figures.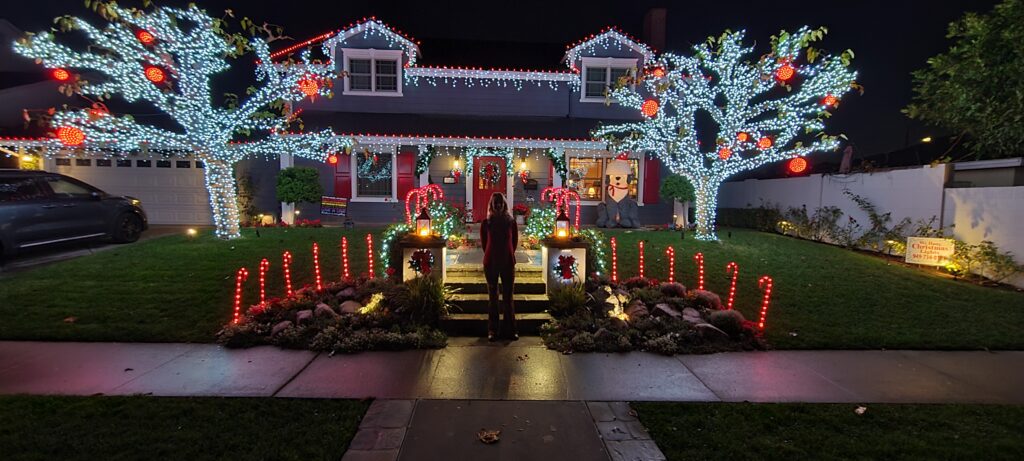 Venice Canals
Venice Canals are an idyllic slice of L.A. living made all the more charming by the Christmas lights that line its bridges each year. Leave your car a few blocks away to avoid the narrow, one-way Dell Avenue, and take a stroll through the shimmering neighborhood. The long-running and gleefully irreverent boat parade typical floats along the first or second Sunday of December.

Hikari: A Festival of Lights at Tanaka Farms
Irvine Nov 25 – Dec 30, 2022
Tanaka Farms is opening up its Irvine fields for this after-dark wagon ride and walk-through. Hikari—which means "light" or "shine" in Japanese—has set up a long trail of lanterns, plus some festive theming that's overtaken the farm's scarecrows, tractors and trees. You'll be able to explore the lantern field by both tractor and foot, and afterwards you can peruse a petting zoo, games, crafts and photo ops. You'll need to purchase a parking pass, as well as tickets for each person; the prices fluctuate depending on the time, so opt for 7:30pm or later for the lowest cost.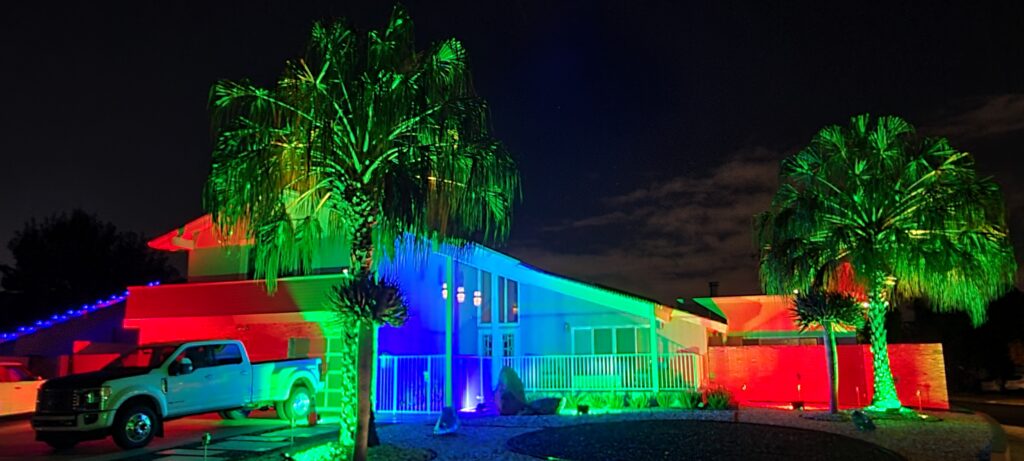 Holiday Road
Santa Monica Mountains Nov 25 – Dec 30, 2022
Stroll across the grounds of King Gillette Ranch as the Santa Monica Mountains hideaway is illuminated during Holiday Road, which returns with a nearly mile-long walking trail. The event, which comes from the same team as Nights of the Jack, includes festive décor like a treetop canopy of icicle lights, a small Christmas village, freestanding oversized decorations and archways of lights. Look out for food trucks and a holiday bar while you're there.
Lightscape
Arcadia Until Jan 8, 2023
Last year, Moonlight Forest made way for another holiday tradition at the L.A. County Arboretum: Lightscape. Uplit trees line the mile-long pathway, with about 10 or so installations spaced out along the way. Expect to spend about an hour or so strolling the one-way loop and posing for photos. Though the color-bathed flora is certainly pretty, last year we wished there were simply more twinkly things to see as you walk during the in-between moments—hopefully this year's edition addresses that.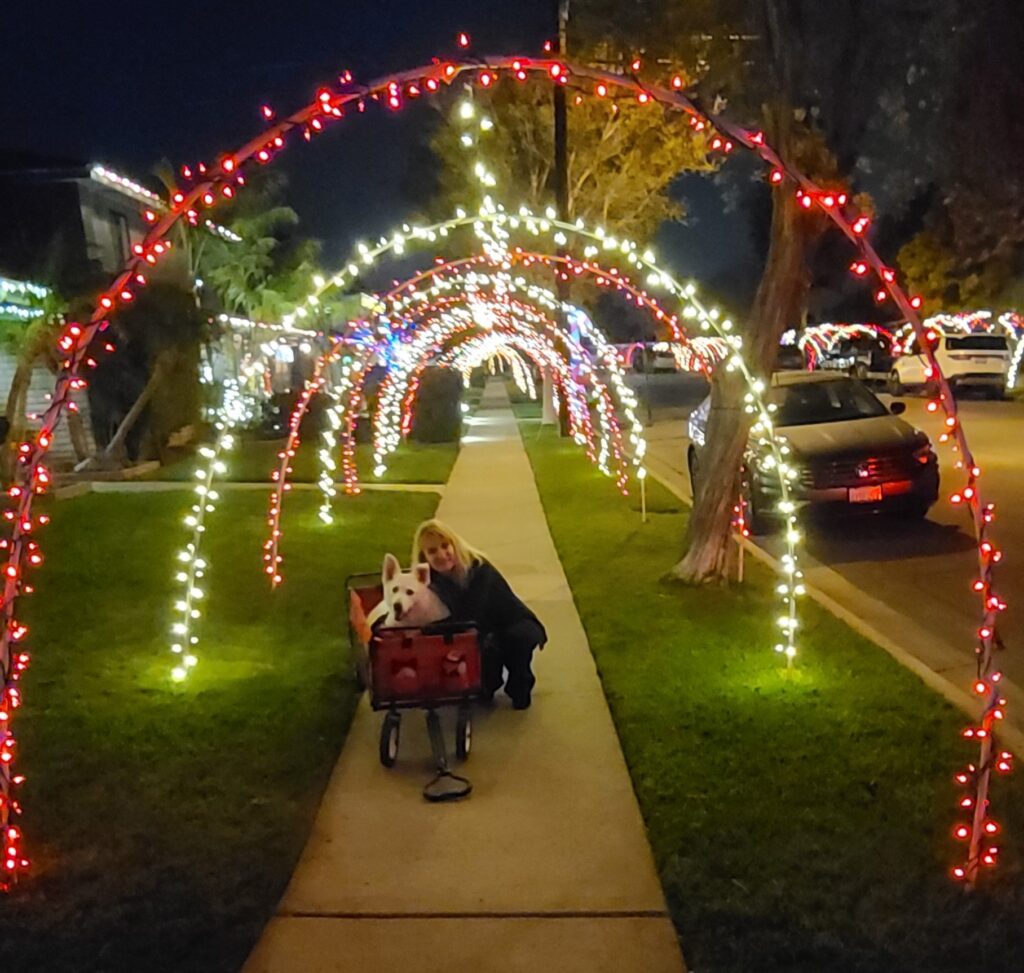 Beverly Hills
We'll admit it: Los Angeles has no true holiday counterpart to the festive windows of New York's 5th Avenue. That said, our own tony shopping district, Beverly Hills, knows how to add a bit of opulence to the holidays. This year's decorations on Rodeo Drive light up starting November 17. Elsewhere in the area, you can usually expect to see lights swirl around the palm trees, up the steps of Via Rodeo, over the span of Wilshire Boulevard and onto the extravagant Beverly Wilshire. Beverly Drive, too, typically gets covered in white lights, along with a willow tree decked out in gold décor at Beverly Cañon Gardens.

Holiday Time at Disneyland
Even before the Halloween pumpkins disappear from Main Street, you'll be able to spot signs of the holidays at Disneyland. The beloved theme park turns into the merriest place on earth for a full two months (Nov 11–Jan 8), with Christmas makeovers of popular rides and holiday-themed nighttime shows. As far as Christmas lights go, you'll spot festive décor all over the parks, from the auto-themed Americana decorations in Cars Land to icicle lights draped atop Sleeping Beauty Castle. But the real standout is the joyous façade of "It's a Small World."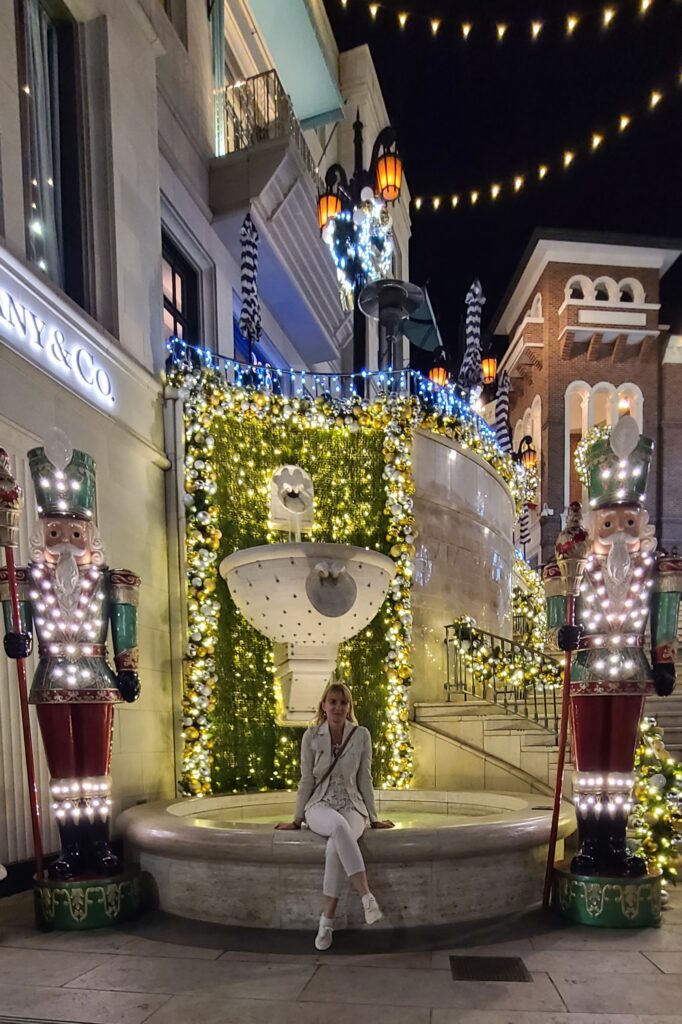 Astra Lumina
Stroll through a garden illuminated by celestial-inspired lights during this year-end event at South Coast Botanic Garden. Astra Lumina will set up about an hour-long nighttime trail through the Palos Verdes garden, with eight starry installations along the way. The experience comes from Canadian entertainment company Moment Factory and replaces GLOW, which ran at South Coast the past two years.
Rancho Palos Verdes/Rolling Hills Estates Dec 8, 2022 – Jan 15, 2023
Candy Cane Lane
We all like showing off to our neighbors, but the homeowners behind Candy Cane Lane take it to the extreme. There are actually two neighborhoods in L.A. that go by that name: One in El Segundo, on East Acacia Avenue, the second in Woodland Hills. Here, we're talking about that Valley neighborhood, eight blocks centered around Lubao Avenue and Oxnard Street that have been blanketed in lights for more than six decades.

Newport Beach Christmas Boat Parade
Newport Beach Dec 14 – Dec 18, 2022
Ah, the joys of Christmas in a Mediterranean climate, where boat owners can deck out their ships in holiday lights and set sail without the impediment of icy weather. For the 114th year, the Newport Beach Christmas Boat Parade is doing just that as over 100 decorated yachts and ships parade around a 14-mile circuit in the Newport Harbor. You can see the parade for free during each of the five nights from any bay-facing point along the harbor, but there are also reserved seats, dining packages and cruises available for purchase.
Upper Hastings Ranch
This decades-old tradition of coordinated holiday displays among homeowners smakes the sloping grid of ranch-style homes in Upper Hastings Ranch a scenic year-end destination. Each block of the Pasadena neighborhood decorates according to a different theme; one street might be lined with light-up candy canes while another is flanked by an army of inflatable Santas. Look out for a lighting on December 10; you can cruise around the twinkling foothill community nightly from 6 to 10pm until the new year.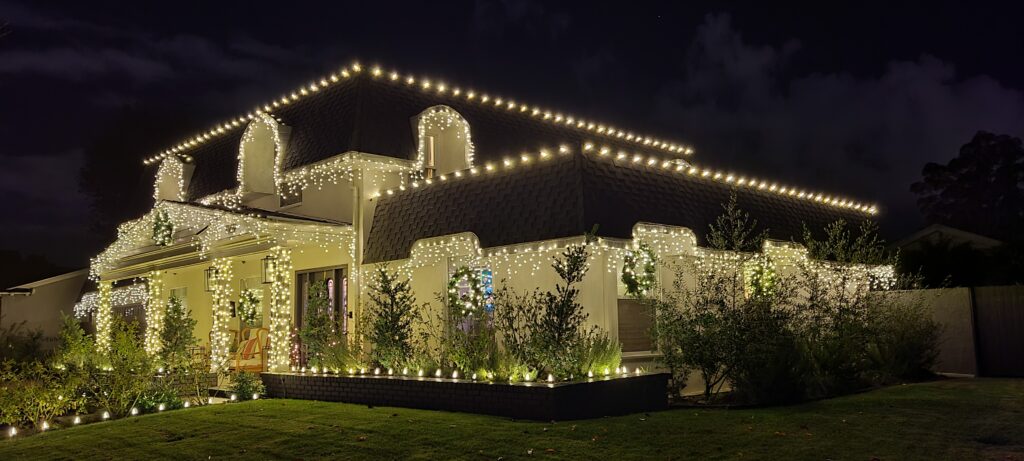 Winter Fest OC
Costa Mesa Nov 25, 2022 – Jan 1, 2023
After a stint as a drive-through lights show dubbed Night of Lights OC, this Christmas-themed event is back under its original name. The Costa Mesa event includes a North Pole walkthrough, illuminated mini-golf, bounce houses, a holiday market and tons of lights, plus skating, tubing and bumper cars, all of the ice variety.